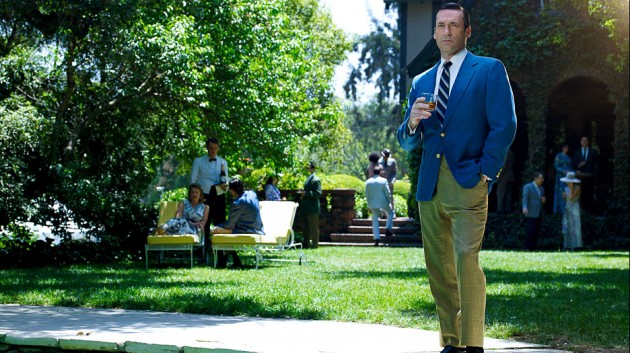 Macro- and microevolution are terms that describe the change of organisms over a period of time; macro dealing with scales that can number in the thousands and beyond, and micro dealing with changes in a human lifetime. Macroevolution, however, is just an extension of micro. Macroevolution requires thousands or hundreds or millions or an infinite amount of microevolutionary changes, built up over time, to make that change.
Life wants to exist; at our core, our basic instinct is to live as long as possible. To live, we construct a basic equation: if safe, stick to the status quo; if in danger, change. Our evolutionary instincts are not to abandon our increasingly fruitless soil for literal greener pastures; instead, they are shift a little to the left, to change things very slightly, which emphasizes short-term safety over long-term prosperity. Only after many shifts to the left do we get to a place in which we truly have made real change.
Mad Men is a brilliant show because it illustrates that change most accurately. There is something innately familiar and comforting watching Don chase a woman; that is what we know and are accustomed to. As much as some (me) might wish that his character development was a little more speedy, I cannot deny the "truth," so to speak, of it. Don has made thousands of little changes not so that he could arrive at the diner and be a proto-third wave feminist, but so that he has a real interaction with a woman instead of just spewing one-liners to get some tail. Don improved, in this instance. He took a leap of faith after the death of a friend and went looking for someone to talk to.
Then there is Ken Cosgrove. He's been a good, solid employee of the ad firm since the beginning. He's risen up the ranks because of his quality of work and general lack of sleaziness, and that makes him nearly unique at the firm. But he hates his job and has always hated his job. So when he gets a chance to take a generous severance package after being fired, he appears to take it. He's about to make a big change and chase his dream. But, instead, he steps a little to the left and takes a job that allows him more free time to write, but still keeps him in his comfort zone. His improvement arc is only beginning; we're only seeing the first of an infinite amount of tiny changes that will lead him.
Peggy is an even more striking example, because she is even more desperate for a change than either Don or Ken. Her status as a woman puts a burden on her than the men she works with. She has internalized that misogyny and taken it out on Joan. Peggy has been rationalizing the boys' club for almost a decade now, and she knows it. Her dinner with Stevie, a man who would rather eat veal then get the lasagna he paid for, opens her up. She's finally telling a man what to do, and he does it. There is no couching of truths in soft language; she is honest with him, and he doesn't respond by leaving or trying to ruin her. She makes a massive change, or tries to. Her trip to Paris would've been a radical departure from the work-oriented and conservative life she's built for herself. And sure enough, by the time the wine wears off, she's back in her comfort zone. It's unfair to Peggy, though, to characterize her failure to change and expand outward as her fault; while the penalty for Don's attempt to change is a lot of free money and a trip to California, Peggy's is a drop off a cliff.
Mad Men is about the small things; the details that we might otherwise miss. The tiny moments we take for granted (Peggy finding the passport at her office, Don turning the lights on and off in his apartment) that add up to the big moments. They lead to Don's outburst in the Hershey meeting and Lane Pryce killing himself. Mad Men sticks with us because it is most like us. It changes in tiny increments, moving imperceptibly and inevitably towards existence.
We have six more episodes to see where it takes us.
Stray Thoughts
– Joan acid-bathing Peggy when Peggy started slut-shaming was too dope.
– Pete is still the worst; also, I hate him.
– If I were Jon Hamm, I'd submit the sequence from this episode in which he's at the mourning for Rachel. That was so emotive and powerful. It made me tear up.
[Photo via AMC]