Mad Men returns with this superb double episode after 17 months away from screens and many of those big questions are finally answered. Is Don (Jon Hamm) married to Megan (Jessica Paré)? Has Joan (Christina Hendricks) had her baby? What year is it?
It is the Tuesday after Memorial Day weekend in 1966, so just under a year has passed since season 4; Don has indeed married Megan and Joan has had her baby. All seems like it is going relatively well for Don and the business are still continuing despite this stability being tentative; Don and Roger (John Slattery) are sharing a secretary after all. Megan's position at Sterling Cooper Draper Pryce is in the creative team, a move that is not lost on a visiting Joan. Megan is unlike Jane Sterling (Peyton List), who clearly married for the money and the luxury and Megan enjoys working even if she is uncertain whether she really likes the 'cynical and jaded' co-workers at SCDP.
Perception is an important factor in the advertising world and these characters sometimes have issues with how they want to be perceived and how they think they are. This might be why Don is so annoyed with having a party in his home and bringing social and work areas into this personal space. This coupled with his negative feelings towards birthdays and such a public and sexual performance from Megan contributes to his rejection of the whole thing. There is power in mystique and Don loses some of this when he is exposed by Megan's rendition of "Zou Bisou Bisou" (this translates to Oh Kiss Kiss) and it gives his colleagues some very big teasing material.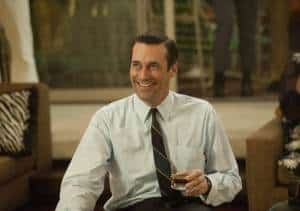 There is also a difference in the power dynamic between Megan and Don than we have seen in some of his former relationships, though sexual dominance is still an important factor. Megan's insistence that she cleans while in her underwear, so she doesn't get sweaty seems to be a way to exert her sexuality. It is hard to see which of the pair really is the dominant one in this relationship; it would be easy to say Don but it isn't that simple to label them this way. Like the white carpet, things only look perfect for a brief moment before reality and the hard maintenance of keeping it that way sets in.
One person who is trying to assert his power is Pete (Vincent Kartheiser) who believes that he isn't being rewarded significantly for the amount of work he does. Pete has always been nakedly ambitious and has always been after more, but while in season one this was an absurd way for him to behave, Pete is correct in believing that he is an important member of the SCDP. Pete is becoming more annoyed at Roger's involvement in his accounts, especially as Roger really does very little of his own work. Pete is right in this scenario and even though Roger is an expert at "turning a meeting into a bender" it is Pete that has been doing all the legwork, including courting old client Mohawk Airlines.
Pete's dissatisfaction at work is reflected in his feelings toward living in the suburbs. Pete has never wanted to live outside of New York City and now that he is living this suburban life he seems even less enthused by it all, he even gets wistful at the sound of the traffic at Don's apartment. Trudy (Alison Brie) is no longer the same put together woman as she was before they had the baby and his dinner is sometimes cereal out of the box. Even though Pete complaining about Trudy's appearance made me roll my eyes, this is clearly not the life that Pete neither wanted nor expected. Pete did however end the episode with a larger office so he managed to get something out of his work, even if it wasn't the office that he desired.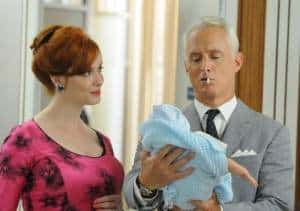 The work/home divide is also having a big impact on Joan who is at home on leave after having her baby. Greg (Sam Page) is still away with the army and Joan's mother is staying to help her. Joan is worried that when she goes back to work she will be obsolete but it is clear that when she visits that they are missing her skills greatly, even if the girl on the front desk doesn't know who she is. Joan's dilemma of when to go back to work and feeling like she is replaceable reveals Joan's vulnerable side, even if it is only Lane (Jared Harris) who gets to see her tears. The interaction between Roger and Joan was without drama and even though it is unclear whether Roger knows that the baby is his, he's got to have figured it out right?
As far as social issues are concerned the episode is framed with a civil rights protest that begins outside the offices of rival ad agency Y&R and ends in SCDP after applicants turn up for that they think is a real opportunity, but instead is an elaborate joke. The discontent that is being felt in some corners of the country and being reported by Peggy's (Elisabeth Moss) journalist boyfriend Abe (Charlie Hofheimer) is not something that concerns all the characters of Mad Men and this is demonstrated when Trudy asks "What exactly has been bad?" It's not that Trudy is ignorant because she doesn't care; she's ignorant because she has other concerns in her life such as her baby.
Lane might sound like a gentleman and act that way most of the time, but that doesn't stop him from being tempted by the photo of the woman in the wallet he found in the back of the cab. Lane's wife is back in New York and things are fine between them, but he still finds himself daydreaming about the woman in the photo and all the 'X's and O's' that she could give him. Lane didn't get to meet her but he does still have her photo in his wallet for whenever he wants to think beyond the life he has.
There are work frustrations for Peggy who has been working hard on the Heinz account but without much success thanks to a client who isn't a fan of this bold campaign. There is tension between Peggy and Don because he didn't back her in this meeting, but Don feels like his energy would be better used on a client who is willing to hear these new ideas. Peggy is unhappy with this new Don, a Don who is "kind and patient" which could cause conflict this season. Peggy's outburst at the party was perhaps not her best move, but there is a level of familiarity between the pair now that makes this less of a big deal.
Other Obseravations
-The last time we saw Don celebrate a birthday was in the season 3 premiere "Out of Town", this was Dick Whitman's birthday which is 6 months prior to the real Don Draper's birthday.
-When did Harry (Rich Sommer) become this obnoxious? His little speech about Megan is definitely not going to endear him to Don, though it was hilarious that he spent the second half worrying about this incident.
-A very brief moment of Don with his kids, including the newest Bobby. Sally (Kiernan Shipka) is clearly not as enamoured with her new step-mother as she was last season, but this might have something to do with Megan going from babysitter to naked woman in her father's bed. Is this going to be another difficult year for the oldest Draper child?
-Joan's baby got passed around the office with the most tragic/hilarious exchange happening between Pete and Peggy. These two still have that history that is never going to truly go away, especially when there is a giant sized baby anvil in the room.
-As always the costuming was exceptional and praise should be heaped on Janie Bryant. Don's birthday party had such a fantastic array of patterns that made this the most 60s Mad Men has ever felt.
-Pete still keeps his shotgun in the office and is popping out of his box of stuff as he switches office with Harry.
-Some really great physical comedy including both Roger and Lane's interpretation of Megan's dance and Pete a little worse for wear face planting into the support column in his office and giving himself a bloody nose. Pete's revenge on Roger was also well executed if not a little childish.
What did you think of the season 5 premiere of Mad Men?