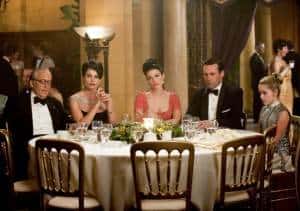 Expectations and reality don't always match and Mad Men shows that while you can sell beans using three generations, this can also demonstrate the harsh reality of growing up. Advertising in one respect is all about making the consumer want an ideal; to strive for something better rather than just settling for the first easy option; it is about desire and aspiration. This episode shows through the various generations that there are certain things that don't necessarily live up to how we pictured them, but this can be something positive if we just try to get beyond how we think things should be.
After last week's unhappy ending for Megan (Jessica Paré) and Don (Jon Hamm) the pair seems stronger; on the home front as Megan's parents are come to stay and at work where they demonstrate that they make a rather good team. Don is certain that Megan's father Emile (Ronald Guttman) dislikes him; Emile has strong socialist political beliefs. Megan's mother Marie (Julia Ormond) seems much more taken with Don, but this appears to be in a superficial flirtatious way; to make her husband jealous, to compete with her daughter or just to feel something? Don is out of his depth with dealing with Megan's family when they start speaking/arguing in French and even though he has a 'teach yourself French' book it is clear that there is little of their discussion that he understands beyond the tone and intonation.
Don really hasn't had much luck with his father-in-laws as Gene was also not a fan and of course this could just be seen as a father's prerogative to want more for their daughter, than the man they have married can give. Emile believes that Megan has given up on her dream but her dream of what? To be an actress? Megan is clearly better at her job than just being the wife of the boss and shows that she can use real life moments and manipulate them into an advertising strategy and that she can think on her feet at the dinner with Heinz to save the account. Emile believes that she has skipped the struggle part of her adult life, but as we have seen it hasn't been plain sailing and she has more to prove at SCDP because of who her husband is.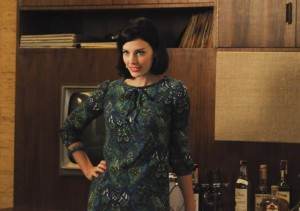 Like Peggy (Elisabeth Olsen) before her, Megan has to work hard to show that she is a valuable asset and in one of the episodes sweetest moments it was rather touching to see that Peggy is genuinely happy that Megan did well on the Heinz account. This reaction surprises both Peggy and Megan and it would be so easy to go the jealousy route, but Peggy feels like she is experiencing her first moment of success again. Though in this moment of happiness Peggy tells Megan to savour it as "this is as good as this job gets" which sounds like a word of caution as it won't get any better in this job. The problem is of course that Megan probably wouldn't have become a copywriter without her relationship with Don so she has worked her way up the ladder the 'easy' way, though it also means that it will be harder for her to get any respect from her co-workers.
Roger (John Slattery) has a similar experience with work in that he was born into this business, so he didn't have to work for it like someone such as Don. Since losing the Lucky Strike account though he has lost his worth and after his life affirming LSD trip he now seems ready to put some serious work in. Unfortunately the people he will be attempting to schmooze are not interested in working with SCDP after the letter they are honoring Don for also demonstrates that they can't be trusted as a firm. Roger's new outlook is rather refreshing though he still manages to be as wonderfully quippy and his scenes with Sally (Kiernan Shipka) at the dinner were terrific. The bond between Sally and Roger was quickly shattered when Sally walked in on Megan's mother Marie pleasuring Roger in the most adult of ways (yep she was giving him a blowjob- Mad Men is working its way through public sex acts). Roger sold himself to the dissatisfied Marie with his 'don't stop believing' current outlook on life; will Roger remain this upbeat for the rest of the season in this post-LSD high?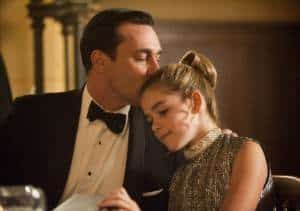 This is a big episode in the evolution of Sally Draper who tried to dress in a more adult way, but was met with an adult interaction that was beyond what she should have seen. Sally is at that awkward age where matters of a sexual nature are discussed, but as with most kids of this age they don't really understand what it means even if they pretend they do.
This is further provoked by her conversations with Glen Bishop (Marten Holder Weiner) who Sally secretly calls; Glen is older than Sally and this relationship could become problematic in the future, especially if Betty (January Jones) is to find out about it. While Sally doesn't tell Glen what she saw she does tell him that the city is "dirty." Don can prevent Sally from going out with make-up and white knee-high boots on, but he can't stop her from growing up and as Emile not-so-delicately puts that she will soon 'spread her legs and fly away.' The look on Don's face at Sally in this more grown-up attire is one of pure shock as he sees his daughter turning into a woman and this dress certainly resembles the more modern style that Megan usually wears.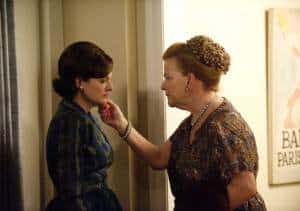 One relationship that has always been difficult is between Peggy and her mother Katherine (Myra Turley); Peggy has never done the exact thing that has been expected of her including the sin of having a baby out of wedlock. It was clear from the start that Katherine was not going to be happy that Peggy and Abe (Charlie Hofheimer) are moving in together as they will be 'living in sin.' Katherine also manages to stick the knife in further by suggesting that Peggy is Abe's practice and that he will leave when he finds something better. Peggy and Abe's relationship is less than perfect so her mother could be right in one respect but it could actually be Peggy and not Abe that is the one settling and having the practice relationship.
Other observations
-Peggy's mother perfectly describes what a cat lady is; "If you're lonely get a cat."
-Don makes fun of Roger's LSD clarity as most people can think like that without going on a drug-induced trip. Roger's ex-wife Mona (Talia Balsam) is also somewhat amused by Roger in this state and Roger tries to convince her to try it. This is a post-divorce pairing that is always a delight to see.
-The debate about how to sell bras is made all the more wonderful by Stan (Jay R. Ferguson) referring to Peggy as a "boob carrying consumer."
-Pete (Vincent Kartheiser) demonstrates what he does to Megan's father Emile as an account man by giving Emile an ego boost about his academic work. This is a rather brilliant move from Pete who reveals that it is all about selling the client without them realizing and it would seem that Emile despite his socialist beliefs was rather impressed with this performance.
-Even though Peggy's mother does not approve of Peggy and Abe moving in together there is one person who congratulates Peggy and surprisingly it is Joan (Christina Hendricks). Joan of course has been one to offer advice and scorn to Peggy in equal measures and Peggy is certain that Joan will disapprove as they are not getting married. This might have been Joan's reaction before her latest relationship development, but instead she is happy for Peggy, calls her brave and gives her a genuinely happy hug. Joan even manages to make a joke about her own situation with Greg and how marriage isn't all that special really.
-The dress that Peggy buys when she thinks that she is getting proposed to is super pink and makes her look like a child at a pageant.
-Emile lets Bobby refill his fountain pen on Don and Megan's not so white carpet, this definitely feels like a gesture to rile Don up and dirty this very modern looking home (a newspaper but was below but come on this is Bobby we're talking about). But hey it gives Bobby something to do which is novel.
This episode was all about expectations and reality and as the tableau of the three generations at the end shows (the photo at the top) this isn't a happy scene of beans. Each generation has made sacrifices or has those to come in the future and just because an advert depicts things a certain way doesn't mean that they will happen like this in reality; for a start we still don't have a colony on the moon.
What did you think? Are these characters settling for second best? Or are they being resourceful? Has Sally left her childhood behind? Let us know your thoughts in the comments below,