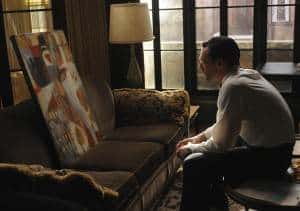 There was no knight in shining armour this week at SCDP which leaves just one more episode for the company to be saved this season. Attempts were made to find a way to keep doors open but the phrase 'in six months time' was all that could be obtained at this point. I have no idea in what direction the finale will take us in after this excellent penultimate outing (directed once again by Roger Sterling himself John Slattery) but the bumpy journey that these characters have been on whilst working at this fledgling firm has been a terrific one.
After unsuccessfully securing new business with another tobacco firm and essentially striking out with Heinz, Don did the thing he does best and went creative taking out a full page ad in The New York Times (wonder how much would that cost?) under the provocative title "Why I'm quitting tobacco". The reaction to this piece from the senior partners at SCDP was of horror and once again showed the divide between creative and accounts, as Don later says to Peggy to further this point; "Creative. The least important most important thing there is". The common thought is that Don has committed professional suicide by being impulsive and childish, or as Pete more astutely said that Don was throwing a tantrum in the pages of The New York Times. What he has done is change the conversation, will this catalyst save the firm or alienate them further?
The inspiration for the piece came from season one former lover Midge (always good to see Rosemarie DeWitt) who pretends to accidentally bump in to Don so she get some money out of him under the pretence of buying her art for her heroin addiction. It was the painting that he bought and the person who painted it that led to this breaking free of the idea of dependency. The action of ripping pages from his sober journal to write the New York Times piece appears to be a comment on Don's journey this season from alcohol dependent to this return to form in the face of adversity.
The reaction to the piece was not only met with horror, Megan was impressed and it was good to see these characters at ease with each other, and that their indiscretion last week has not changed their working relationship. When Megan thought it really was Bobby Kennedy on the phone, I too was fooled even if the accent sounded a little too much Kennedy impression, when the reveal showed it was the hateful Ted on the line my heart sank like Don's not just because this would not be the saviour for the firm but because I fell for it too.
Sally once again is a victim of circumstance and with what little power she has she is trying to make the best of her situation, her psychiatrist is more than happy with her progress and for the most part of this episode it was wonderful to see Sally smiling. Though it really doesn't seem as if Betty really understands anything that is going on with her daughter and it shows her level of emotionally maturity that she doesn't want her own 'talking' sessions to end. After her last horrid encounter with a psychiatrist it is easy to understand why she is more comfortable in this environment but her own insecurities and issues really shouldn't be a cause to pull Sally back. Betty is for once ready to move house, she is breaking free finally but at what cost to Sally?
Pete spends much of the episode stating that he can't pay his partners fee and finds no support from home as Trudy forbids Pete from doing so. This scene is a welcome but brief return of Alison Brie and shows how Trudy has a more fierce side now that they have family to think of. Instead the handicap that Pete feels that he has in knowing Don's big bad secret may have actually come in useful when Don pays Pete's required $50,000 (he really is being flash with his cheque book this week), and this makes up for the crap that Don has been giving Pete this season and is a sign that Don has faith in Pete's work in settling this debt for him.
The level of desperation this week was high and all too much for some, Bert Cooper it appears has bid adieu to the firm, will we see him and his argyle socks again? The tears and looks of impending doom on the faces of those who had to be let go sure put a dismal spin on the end of the episode, though I couldn't help but feel that something positive will occur in the finale as the Etta James song "Trust in Me" suggests as the music that played us out.
What did everyone else think? Are SCDP dead in the water? Any theories of how they are going to still be here in six months time? Will Betty ever understand her daughter? Sound off in the comments below or join us in the Mad Men forums.