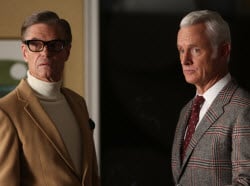 The explosive finale of Mad Men aired last night, if you consider a barely audible snap an explosion. There were many theories as to where the season was headed, most notably to the death of a major character or the crazy revelation of some shocking secret, but in last night's finale, neither came to pass.
It isn't to say nothing interesting happened, it just wasn't what many were expecting, perhaps. Don spent the episode slowly crawling his way back to being something resembling a good person, after hitting an all-time personal low punching a priest.
He tries to quit drinking cold turkey which gives him the shakes, but he still is at least trying to do the right thing with a fresh start in California. Then, he does an even MORE right thing by letting Ted go in his place, a guy who needs it more, but he may have sunk his marriage in the process.
Can you blame Megan for her reaction? Your husband makes this elaborate plan to move across the country, forcing you to quit your job and line up a new one to do it. Then suddenly he reverses course, and you're just SOL. When things were rocky to begin with, that's more than enough to make things capsize entirely. And unlike every theory flying around the internet, Megan did not meet her bloody end at the hands of Charles Manson or anyone like that, though I do wonder what her role will be on the show from here on out.
Ted finally gives in and sleeps with Peggy, then immediately has a crisis of conscience and realizes that his family is perfectly fine and he's just being an asshat. He breaks things off with Peggy who takes it rather poorly, but concludes the episode sitting in Don's desk, quite a powerful image for the show to put forth.
I was always interested in the Bob Benson mystery plot line, but they went way, way too far with it, really to the point of absurdity. So let me get this straight. The gay nurse Bob hired to look after Pete's mother seduces her, marries her for the money she doesn't have, then pushes her off a cruise ship? Am I getting this right? And I still don't fully understand who the hell Bob is after Pete's little confrontation with him last week. I did rather enjoy watching Bob throw him off Chevy after his elevator tantrum. But was Bob really involved in his mother's death, or is his friend just bonkers? And why is he still so interested in Joan? And is he really gay? I'm lost. This was an interesting plot line that turned into something of a muddled mess.
The episode ends with Don getting tossed out on his ass by the other partners, which makes sense given that he's barely shown up to a meeting all season, and the ones he has he's pulled crap like he did in the Hershey's meeting. That said, that was a really incredible scene, and almost makes those horrible whorehouse flashbacks all worth it. Almost.
As always, we have no idea where the show is going now, but that's just the way Matthew Weiner likes it. I'm a bit disappointed all these conspiracy theories didn't really pan out into anything interesting, but perhaps that will change when the show returns for its final season.