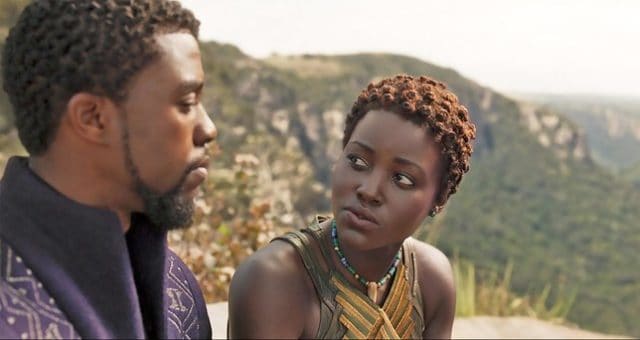 Lupita Nyong'o is having a stellar moment in history at this point since she's been chalking up the roles since her time in 12 Years A Slave, The Force Awakens, and now Black Panther. She's about to add to the list by starring in and producing the Trevor Noah biopic, Born a Crime. The movie has a lot to with apartheid as it was viewed in South Africa and will be seeing her take on the role of Patricia Nombuyiselo, the mother of Trevor Noah and one of the strongest women that's ever been detailed in a book or a movie. The story goes that Trevor was born of a white man and a black woman, which was serious crime in South Africa when he was born. As apartheid didn't end until 1990-91 and Noah was born in 1984, this created a lot of potential problems for Patricia and her son. Added to that was the fact that Noah's stepfather was very abusive, which only made matters worse.
This kind of role is going to be set to stretch Nyong'o's acting talents to the limit without a doubt as it's going to be rough, emotionally-charged, and painful for anyone to go through no matter that it's an act. The mere thought of anyone having to go through such an existence is something that can make a person's stomach churn just thinking about it. And yet Trevor Noah grew up to be a great and wildly successful young man as we can see now on The Daily Show. Despite all he's been through and had to live with throughout his life he is still a very upbeat and entertaining individual that knows how to talk to people and help them to understand his point of view in a very non-threatening and jovial way. This is something he credits his mother Patricia for in a big way, and as a result you can only imagine how Lupita is going to have her work cut out for her.
If anyone can pull this off however it's her, as she has shown in the past just how adept she is at filling a role and making it work without fail. From her work in 12 Years A Slave which showed some of the hardest times in American history to the quirky role she played as Maz Kanata in The Force Awakens she's shown that she can fulfill the role that she's given with great skill and the ability to make people believe in her when it's absolutely necessary. That could be why she's so great in the Black Panther as well, as she has the kind of acting talent that simply allows her to become an integral part of the movie that couldn't be easily replaced or substituted with anyone else.
The role she'll take on as Patricia is bound to be tough and extremely emotional, but right now her star is shining so brightly that the faith that's being put in her is well-placed. There's no doubt from any quarter that she'll take this role and make it into something great.
Tell us what's wrong with this post? How could we improve it? :)
Let us improve this post!