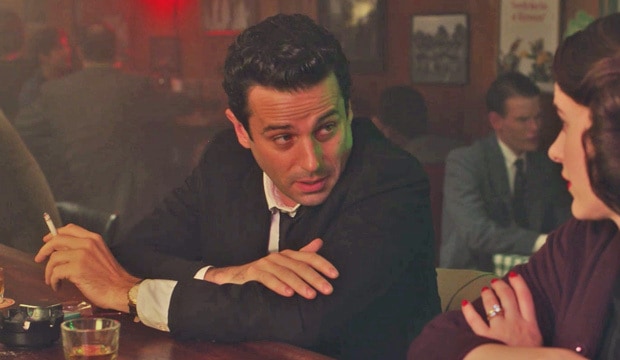 Finding success in TV shows and movies isn't something every actor can do, but it's something Luke Kirby has managed to do quite well. Throughout his career, he has show that he is up for any challenge and his resume reflects that. He is best-known for his role as Lenny Bruce in the hit series The Marvelous Mrs. Maisel, however, he has also been in movies like Halloween: Resurrection and The Greatest Game Ever Played. Whether he's playing a big or small role, Luke is the kind of actor who always puts on an unforgettable performance. With Mrs. Maisel set to return to the air with a new season in 2021, fans are hoping to see more of Luke. Keep reading for 10 things you didn't know about Luke Kirby.
1. He Was Born In Canada
Luke was born and raised in Ontario, Canada, however, both of his parents are from the United States. They moved to Canada in the early 70s a few years before Luke was born. Unfortunately, we were unable to track down any information about where Luke lives today.
2. He Enjoys Doing Theater
Like many other on screen actors, Luke got his start on the stage and he still loves doing theater work. Due to his busy schedule, he doesn't always get the chance to be in as many stage productions as he would like. His most recent play appears to be the 2007 production of Defender of the Faith.
3. He's An Emmy Winner
Luke may not have a starring role on The Marvelous Mrs. Maisel, but his character has left a lasting impact on viewers and critics. In 2019, he won his first major award, a Primetime Emmy Award for Outstanding Guest Actor in a Comedy Series for his role as Lenny.
4. He's Formally Trained
There are lots of talented actors in the world, but not all of them are willing to put in the work it takes to really be successful. Luke, on the other hand, has worked extremely hard to make sure he is making the most of his talents. He studied drama at National Theatre School of Canada and graduated in 2000.
5. He Likes Woodworking
Luke really loves what he does, but like anyone else, there are times when he needs to take a break to focus on his other interests. He told Interview Magazine, "I have been taking some classes in woodworking. It's really helpful just looking at a problem, and having a very tangible way in constructing it…The first thing I built was a cabinet."
6. He Can Juggle
Do you have any hidden — and very cool — talents? Apparently, Luke Kirby does. During his talk with Interview Magazine he revealed that he knows how to juggle. Hopefully this is something that he can eventually get the chance to incorporate into one of his roles.
7. He's Not On Social Media
These days it's hard to imagine that there are people who aren't interesting in using social media, especially when those people work in the entertainment industry. Luke Kirby is one of those people, though. He doesn't have accounts on any social media platforms although there are a lot of fan pages that have been created in his honor.
8. He Was Rumored To Be Dating Katie Holmes
Like most people who don't use social media, Luke is a very private person. He has never been the type to reveal much about his personal life. But no matter how private a celebrity is, there will always be rumors floating around about them. In 2017, sources began to speculate that Luke and Katie Holmes were an item. The two worked together on the 2015 film Touched With Fire (also known as Mania Days) and seemed to be especially close. Luke nor Katie ever confirmed or denied these rumors.
9. When Preparing For Roles He Imagines His Characters As Children
Getting into character can be a challenging experience for an actor; especially when they are playing someone they can't really relate to. A technique that Luke likes to use is envisioning his character when they were younger. He believes this will help him get a better understanding of who they really are and why they are motivated to do certain things.
10. He Believes In Love At First Sight
Love at first sight is one of those things that some people believe in and others thing is completely ridiculous. Luke has made it clear which category he fits in. He once said, "I believe in love at first sight, and I feel sometimes you have to just be open to whatever love is and let yourself fall."
Tell us what's wrong with this post? How could we improve it? :)
Let us improve this post!