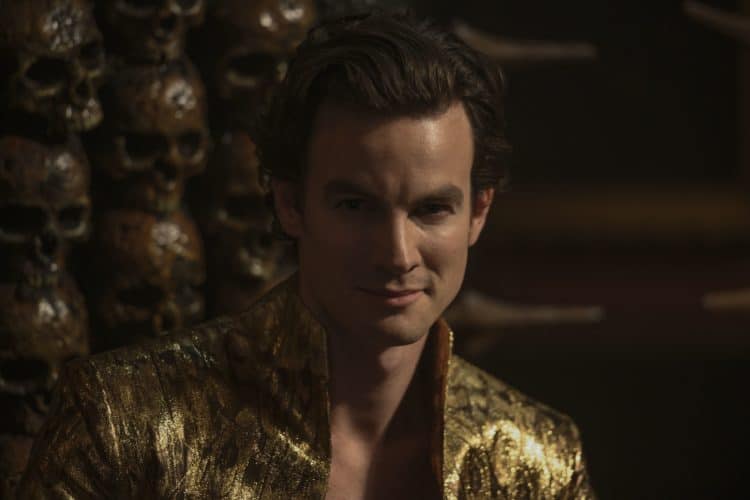 Luke Cook might not be a household name but he is well on his way to ensure that everyone knows who he is. The Aussie actor has appeared in many films over the years, including 'The Librarians' where he played Dorian Gray, 'Modern Family' and MTV's 'Faking It'. He recently caught everyone's attention with his devilish role on the cult show 'The Chilling Adventures of Sabrina' as Lucifer Morningstar. The role has not only seen his following grow, but also enable him book various roles on other shows such as his upcoming psychological thriller called 'Classified Killer'. Luke Cook is an Australian actor born in 1980 and is based in Los Angeles. 10 years ago, he moved from Sydney to LA so as to pursue a career in acting. Cook has appeared in films such as The Candidate where he played Donald Trump and Guardians of the Galaxy Vol 2. With his newest role as the suave Morningstar, he is set to a meteoric rise in the future.
Here are 10 Lesser-Known Facts About Luke Cook:
1. He Comes From A Religious Family
When speaking to the Daily Mail, Luke Cook stated that he comes from a religious family. His father is a church minister in Sydney Australia. His mother is a devout Christian as well. He explained that his mother was so enraged that he had not only booked a satanic role, but was also naked in most of his scenes. Cook stated that his mother has not yet brought herself to watch the show but his father is a fan of his and the show as well.
2. He Recently Got Engaged
Cook proposed to his longtime girlfriend Kara Wilson in their home in Los Angeles last December. The couple announced their engagement via their Instagram accounts.
3. He was 6 Years Old in His First Role
According to Pen to Paper Media, Cook got his first role when he was 6 years old. He played Frank Sinatra and even sang one of his sings 'My Way'. He said that the crowd was impressed by his Sinatra impression to the extent that they gave him a standing ovation. He got motivated and wanted to keep feeling that way so he decided to get into acting full time.
4. He Moved To Los Angeles as a Trial
In an interview, Cook explained his move from Sydney to Los Angeles and gave details on what necessitated it. He explained that he had met a manager who happened to be in town. The two conversed and the manager asked him to visit LA and see how he likes it. Cook explained that he ended up liking the city and what it had to offer, so he decided to stay.
5. The Road Wasn't as Easy as He had Imagined
After coming to LA, Cook said that he at first found it so cool, but, the joy was short-lived. He did manage to book roles during his first few weeks in the city. The only problem was that he couldn't play the roles due to a lack of Visa. He admits that he did land several acting gigs but his Visa issue posed a real problem for him. He mentioned that he was then told by most producers that he needed to get rejected a couple of times then he would be ripe for the industry. His first acting gig was a show starring Jenny Garth and Tori Spelling where he played RuPaul's wicked assistant, a role which he says he enjoyed so much. It seems Cook enjoys playing an evil prick.
6. He is a Versatile Actor
In the acting business, one can't afford to be picky, especially when one is starting out. Over time, Cook has managed to sharpen his skills at almost every genre there is. He has had roles in comedy films such as the Modern Family, has played dramatic roles such as his role as Lucifer Morningstar and is scheduled for a psychological thriller role. Although Cook is a jack of all trades, he admits that comedy is where he feels most comfortable. His quirky sense of humor is evident in his Instagram page. He is constantly creating funny characters such as Steve Kay who is a model manager and Louise who he says is a reflection of his mother.
7. He Gained Over 150,000 Followers due to His Role as Lucifer
Cook has been dubbed a favorite by fans of the show The Chilling Adventures of Sabrina. He was so good at the role that his social media popularity also grew. Currently, Cook has over 650,000 followers on Instagram.
8. He has a Secret Talent
In an interview with Violet Nicola, Cook's secret talent is whistling. He mentioned that he is a great whistler and considers that to be his secret talent.
9. He is an Award Winner
Cook won an award in 2017 for the Best Actor in a Drama or Thriller Category at the Flagger Film Festival for his role in the show Good Morning.
10. His Role Model is Jim Carrey
Jim Carrey is a legend in the acting business and it comes as no surprise that almost every upcoming actor looks up to him. Cook has admitted more than once that he looks up to Jim Carrey and wouldn't mind working with him. He even stated that his dream role in a movie would be to play the iconic actor's son.
Final Thoughts
There have been many Lucifer Morningstars including the one portrayed by Tom Ellis who did an exemplary job as well. However, none have gotten the positive acclaim that Luke Cook has for his portrayal of the Lord of Hell. Cook soared to fame after the show and he seems to be a busy man nowadays as almost every film producer wants him on their show. Cook is currently one of the fastest rising stars and it seems the sky is nothing but the limit for the 32-year-old actor.