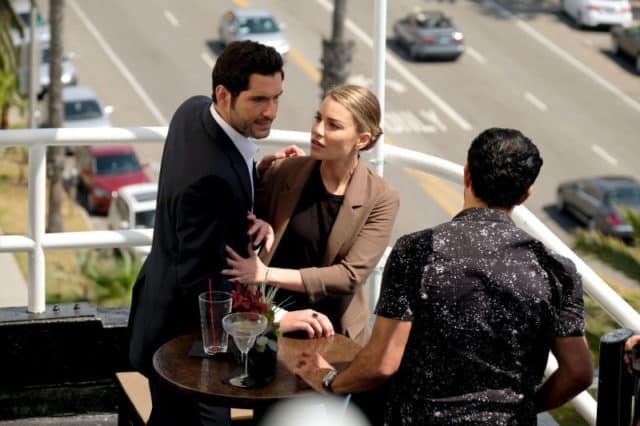 I'll have to admit that I missed the first two seasons of "Lucifer" but that didn't stop me from thoroughly enjoying the premiere of Lucifer Season 3. It opens in the desert with an armored truck being driven by a guy who is clearly not the armored truck driver. He drops his gun on the floor, bends down to pick it up and when he looks up, there's a winged angel standing in the middle of the road. He's shirtless and looking terribly hot (in more ways than one), after escaping his kidnappers, so it's natural to assume that this is the super-sexy Lucifer himself. Besides that, everybody must've seen at least one of the trailers for the show like I did, so he's easily recognizable,…..well, except for the wings. Lucifer's no angel, that's for sure, so what's up?
Police Blockade
The armored truck screeches to a halt and Lucifer Morningstar sucks his wings back in and climbs up. The cops throw up a blockade in front of the truck and, when the truck stops, Lucifer climbs out, obviously wearing the previous driver's clothes, which are way too short. Anyway, the driver of the armored truck ends up running through the desert in his underwear. Lucifer fast-talks the cops by saying he's with the LAPD and they let him go. This scene seems really implausible and the dialogue is a bit lame but I decided to reserve my opinion for further into the episode. I'm glad I did because it gets better. I also felt that Lucifer was over-acting a bit but later discovered that he kind of grows on you.
Clip My Wings, Please!
Back at Lucifer's very well-appointed apartment, he asks his therapist to cut off the wings for him but she refuses. His plea to her explains in part about the wings. He thinks that God, his father, made them grow back to punish him. Later in the show, his brother (a good angel) tells him that maybe Dad forgives Lucifer and if so, there's hope for anybody in this world to be redeemed. Nice thought.
Lucifer Has a Day Job?
So, the Devil apparently works by day helping the cops and one, in particular, his partner Chloe. She's, of course, quite hot and appears to be in love with Lucifer. The chemistry is pretty strong between the two and reminiscent of Castle and Beckett on "Castle". The show follows their police department exploits and how they butt heads with their new boss, Lt. Marcus Pierce, played by Smallville's Tom Welling.
They Keep Growing Back!
Those wings are still driving Lucifer nuts and he can't quite figure out why God keeps doing this to his fallen angel son. Overall though, he really doesn't do quite enough devilish stunts in the premier for my taste but I'm hoping that future segments will bring more of them. Possibly the writers burned through them all during the first two seasons and are trying to think up some new ones. Meanwhile, he and his lovely police partner, Chloe, solve several crimes, including Lucifer's kidnapping, and are now going to have to face a new bad guy called the "sinner man". Maybe Lucifer will use some of his considerable powers against him. Stay tuned to find out.