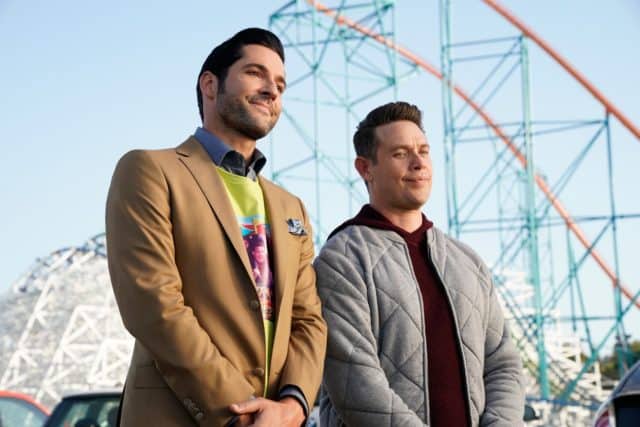 I never expected to see the Devil again. Devastation hit me like a ton of bricks after FOX cancelled the show. I hoped that another network or streaming service would rescue it. So when I heard that there are two standalone episodes of Lucifer airing tonight, it took everything in me to prevent myself from screaming with joy.
The first part of tonight's double-feature centers on our favorite forensic technician, Ella Lopez. A friend from the spirit world shows up at the crime scene, leading Ms. Lopez to question her very sanity. The interaction between Ella and Ray-Ray (guest star Charlyne Yi) was intriguing to watch. It's as if one is talking to their imaginary friend from their childhood. Imagine my surprise when I realized that Ray-Ray is none other than Azrael, the Angel of Death. It should have been evident from the beginning, but I guess I was too busy rolling my eyes at Lucifer's shenanigans.
The case of the week is the murder of a child psychiatrist named Beth. Her death was a result of a frustrated father who only wanted his son Felix to be a typical boy. To have a social life and not play his violin 24 hours a day. I couldn't help but relate to this, but we're not here to talk about me and my problems. I also understand the father's resentment against Dr. Beth, but he didn't have to take her life.
Meanwhile, Detective Espinoza and Lucifer find themselves played like violins when Beckett, a patient of Dr. Beth's, ran away with Detective Espinoza's phone. The Devil and detective then found the teenage girl at an amusement park on a roller coaster ride. After enduring the adrenaline-filled attraction, both Lucifer and Detective Espinoza lost Beckett once again. This time, she stole the latter's badge and the former's Corvette. I chuckled right along with Maze after Lucifer called her to help look for Beckett, who tried to get a drink at LUX.
In the end, Ella confides in Detective Decker that she has been through a traumatic accident when she was younger. This trauma then led her to see ghosts and can communicate with them, hence the appearance of Ray-Ray. Wonder if the Angel of Death will ever reveal to her friend that she's not exactly a ghost? I loved the scene towards the very end of the episode where Lucifer visits Ella in her lab and listens to her ramble on about forensic facts like he used to do with Azrael.
Closing Thoughts:
I had a sweat-drop moment when the lady at the mascot convention said that the reason she left the threatening voicemail on Dr. Beth's answering machine is that the doctor copied her fursona, Wesley Wolf. I can, however, understand her motive. The characters that we create are our own. If someone else wants to use it, they have to ask for permission.
Another sweat-drop moment: Lucifer using Ella's DSLR camera to take high-resolution photographs of his privates. Lucifer Morningstar! Put. The. Camera. Down!
Azrael saying "Smell you later." Not a phrase that I would put in her mouth but I suppose it fits given the premise of the episode.
Chloe telling Ella that no matter what the lab tech says or does will change how she feels about her. Perhaps she should say this to our resident Devil as well after seeing his true face for the first time?
Photo via FOX
Lucifer Season 3 Episode 25 Review: "Boo Normal"
Summary
A child psychiatrist is murdered and Ella thinks about a big childhood secret that she's been hiding in this first episode of a back-to-back feature of Lucifer.