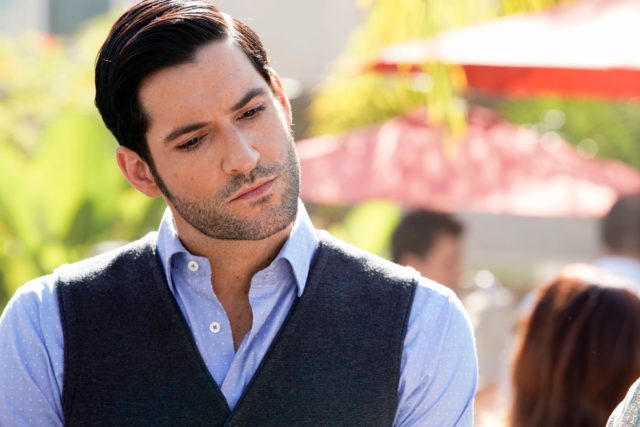 The Devil takes a page out of the Desperate Housewives book to an extent in this week's episode of Lucifer. A woman living in a suburban neighborhood is dead. Her body shoved into a woodchipper. Question is: who killed her and why?
I found this episode to be both amusing and endearing at the same time. It's funny because Lucifer has to go undercover with Cain and to watch them act like a domesticated couple made me smile. The endearing part is when Lucifer stormed away from the party and Detective Decker consoled him. She told him that although emotions run high during undercover work, it's best to move forward until the job's complete. That, and the heartwarming moment when Lucifer and Cain (or Pierce, whichever) kissed and made up.
Back to the case, turns out that the victim, June Lee is not June. Her real name is Sandra Jung, a chemist/cook for a Korean gang called Korean Power. No offence, but that is the lamest gang name I have ever heard. She faked her death three years ago after stealing money from the gang. The latter, of course, does not take kindly to that so maybe they're the ones who killed her? Nope. Not even close.
The real killer is Anya, who thought her husband Brian was having an affair with June/Sandra. He was sneaking out of the house late at night and lost forty pounds. The truth then came out, revealing that Brian was buying Adderal from June so he could lose weight. He wanted to be the man that Anya fell in love with in high school. Love is indeed blind when it all comes down to it.
Meanwhile, Maze has developed a carnal fascination with Charlotte Richards. The demoness even wanted to have a threesome with the former attorney and Detective Espinoza. In the end, the threesome never happened because Charlotte reminded Maze of her old life in Hell and she has no intention of going back to that anytime soon. Your time on Earth has undoubtedly rubbed off on you, Mazikeen. I do hope you will stay for the long haul.
Final Thoughts:
Can't believe that Cain tried to kill himself since the Bronze Age. All those failed attempts. You, sir, are the biblical version of Wolverine. I wonder if a bullet made from adamantium can kill you? Scratch that, you don't have an adamantium skeleton.
Also can't believe that Lucifer gave Brandon Sandra's formula for the ecstasy drug in exchange for his cooperation with the police. However, Brandon got arrested for his other crimes so #winwin.
I loved the scene where Lucifer barged into the karaoke parlor to talk to Brandon Hong, the leader of Korean Power. I especially liked that they used SHINee's song Lucifer for the fight scene. Well done, show! Well done!
I also loved Detective Decker's imitation of Lucifer. That, and for indirectly predicting that he will stroll into the karaoke place with his three-piece suit like he owns it and go "Hello, drug dealers!". Kudos to him for saying it in Korean, but yeah, totally called it.
Tom Ellis wearing glasses. Someone looks normal #lol.
Another aww-worthy moment is when Detective Espinoza told Charlotte that he likes her and is willing to wait for her while she tries to get her life back to normal. Be still, my heart!
Minor disappointment: I was hoping that Detective Decker would be the one going undercover with Lucifer but seeing as the neighbors already know that she is a cop, she couldn't do it. I still got my Deckerstar moment, so that will tide me over for a while.
Photo via FOX
Lucifer Season 3 Episode 13 Review: "Til Death Do Us Part"
Summary
Lucifer and Pierce/Cain go undercover as a married couple to track down the killer of an ecstasy maker as Maze has a newfound attraction for someone that she used to despise in this week's episode of Lucifer.