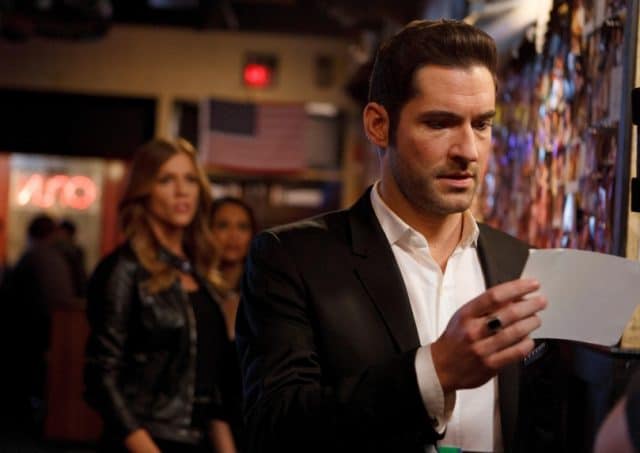 "There's no winning when you play by a twisted tyrant's rules." I couldn't have said it better myself, Lucifer. On tonight's episode of Lucifer, we learned the hard way that negotiating with villains never ends well. Even if you have the Devil on your side.
The hour begins with a rather steamy make-out scene between Detective Decker and our favorite Devil. I was positively giddy thinking that Deckerstar is about to become real. Then I saw Detective Decker grab Lucifer's horns (or Love Handles as he called them) and I came to the realization that it's a dream. Lucifer doesn't have horns. The man said so himself way back in season one. Not cool, writers! Not cool! Though I guess they made it up to me with plenty of Deckerstar moments peppered in here and there.
It was also interesting to see guest star Tim DeKay portray a villainous character. The former White Collar actor tends to take on roles that are more on the good side fighting evil and not the other way around. On the other hand, he did make for a very diabolical villain. Poisoning those college students and forcing professionals (the actor Johnny Kane and the surgeon Dr. Scott) to make a choice between their lives or other people's lives. At least the good professor got his just desserts when he killed himself by slitting his neck.
I am beyond impressed by Detective Decker in this episode. She took Maze's advice and tried to go out of her comfort zone in her interactions with Lucifer. The detective laughed at his jokes instead of rolling her eyes, and she even slapped him on the butt! I almost gave the detective a single standing ovation when she sent Professor Carlisle that poke-the-bear email. A very gusty move, Detective Decker! On a side note, I so wanted them to kiss again towards the end of the episode when Lucifer came out of the university building, and Detective Decker hugged him like a worried wife waiting for her husband to get out of a burning house.
Speaking of Detective Decker, Lucifer finally finds out about his beloved detective's heritage. That she's a miracle child put in his path by his Father. Two thumbs up for Maze when she backed out of telling Lucifer the truth about Detective Decker. She is a true friend. I also applaud Dr. Martin for standing up to Mama Morningstar when the latter asked her to tell Lucifer about Detective Decker.
My heart melted during the bar scene when Lucifer said that he and Detective Decker are very real. He even called her Chloe. That and the scene where the detective let her hair down and Lucifer said in a breathless voice that she looked beautiful. Be still my Deckerstar heart!
Though that happy moment didn't last as he went to Detective Decker's place to confront her, and that's when we see the nosebleed. Lucifer Morningstar, for the last time, she doesn't know that she's a miracle child! You and your dearest Chloe are still very much real! She trusted you to save those two college students while she goes after the professor! Now save the woman you love!
Photo via FOX
Lucifer Season 2 Episode 12 Review: "Love Handles"
Summary
Lucifer and Chloe investigate the deaths of college students who are being poisoned. Charlotte plots to tell her son about Chloe in this week's excellent episode of Lucifer.