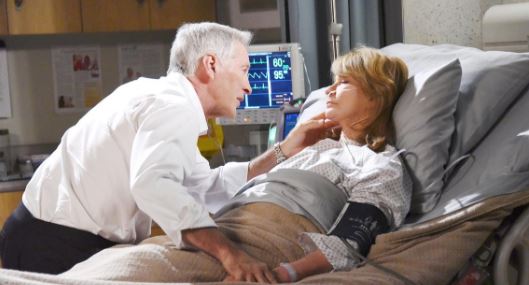 Days of Our Lives fans know that things are not going well for people like Paul and Eric. They've been going through hard times in the past week or so, and things just keep getting worse for them as the time goes on. They are not in a good place for several reasons, including the fact that Eric's own mother is currently in a horrible place, and his fiancé is sharing bad news with him. It turns out that what she has to share with him is not the only bad news he will get, either. There is a lot more happening that no one could predict, and a lot of that information came form his own sister. Belle had some bad news for him last week, and it was horrible for him to realize that things are going down the way they are.
He's suffering. And so is Hope. With Sami back in town, she's been worried about all that is happening with Rafe. She's not happy that things are not going her way too much, and she's not sure how to fix the problems she's got going on. She's sad and upset, and she's not sure how to make it all stop. She has no idea how to make sure she's not getting into more trouble than she can handle, and this is not something she's been good at handling. This is not her situation, and there's a lot for her to worry about. And that's what's been going on for her. Paul is in trouble, and Will also just told him that he's got his memory back. And he's also trying to spend his future with Sonny, which means Paul loses out on both the men he loved recently. We know he's leaving soon, but it's hard to watch.
What's Happening on Days of Our Lives
Join me in wishing @kristianalfonso a VERRRRRRRY happy birthday 🎂🎁🎉🎈🎊 😘😘😘❌⭕️👯‍♀️ pic.twitter.com/EUleJ7ZwXJ

— Lauren Koslow (@laurenkoslow) September 5, 2018
We might be a few days late with it, but we are all on board for wishing this amazing actress a happy birthday. Hope's been going through a lot on the show, so we hope her real life personality gets to celebrate and have the best day ever when she has a chance to do it. She's going to keep aging, but we also have to ask her what she's doing to make it look as if she is not doing just that each year. How does she look younger ever time she celebrates a birthday?
What's Next on Days of Our Lives
In the latest #DAYS, Abigail confides in JJ she thinks Gabi is out to get her.https://t.co/ZsCmioRrzb pic.twitter.com/SztsSLwgCV

— Days of our Lives (@nbcdays) September 6, 2018
The new week is beginning, and things are never what they seem. So many people are having bad days and realizing that their lives are not at all what they seem. They have so much to worry about, so much to handle, and so many things to focus on at this point. There's not a lot they can do to make this situation a bit easier, but they can focus on trying to get their lives together. We know Paul is having a horrible time of things these days, and this week is going to bring him to a horrible realization he might not be able to live with. He might not be able to handle what is happening in his life, and it's going to be difficult for him. He's struggling.
Additionally, there is a lot more going on with Lucas. Bonnie is asking him to help her, and she wants to know that he can ensure her freedom. He's not sure what to do and where to go, but he's confused about more than that. He's got things to handle this week, and he's probably going to make some mistakes as he works to make sure he's able to get it all together. He's a mess, and there is very little anyone can do about that in the meantime. He's probably struggling harder than his friends and family realize, and there is very little he can do about that at this point. No one is able to help him because they are all so focused on their own lives.
Stay tuned for more Days of Our Lives and be sure to check out TVOvermind daily for the latest Days of Our Lives spoilers, news, and updates.
Tell us what's wrong with this post? How could we improve it? :)
Let us improve this post!