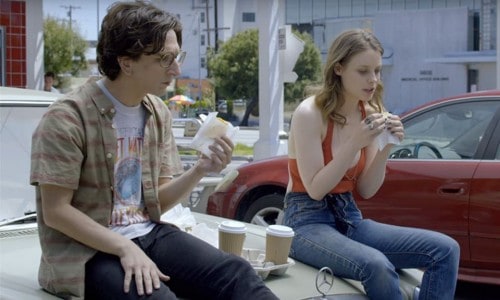 Netflix has been rolling out their original series on a regular basis so far in 2016 so it's understandable if Love slipped under your radar until now. Touting Judd Apatow as the co-creator should be the number one selling point for comedy fans. That's not to say Love is laugh out loud funny because the humor lies more in the subtle and often realistically awkward encounters between these average young 30-something singles.
Gillian Jacobs (Community) and Paul Rust star as the unconventional couple at the center of it all. They start out in different failed relationships and their personalities remain as opposite as possible throughout but it's their "meet-cute" at a convenience store that changes the course of both their lives. Think less How I Met Your Mother and more Master of None in terms of the romantic comedy aspects of the show. There's nothing glamorous or exaggerated about the characters.
Gus (Paul Rust) works as a tutor on the set of a fictional supernatural soap opera named Witchita because yes, there are witches involved. Love focuses on the behind the scenes aspects of the show but Witchita looks like it would a fun parody of any number of real shows. Anyway, it's pretty cool to see Iris Apatow (Judd's youngest daughter) get some more acting experience under her belt as the child star of the show-within-the-show.
The real breakout actor of Love would have to be Claudia O'Doherty as Bertie, Mickey's Australian roommate. She met her just by putting out an ad for help with the rent, and of course they become friends. Good enough friends that at first Mickey drunkenly sets her up with Gus because she thinks they're a great match since they're both such nice people. This very setup leads to one of the funniest and most memorable scenes from the series at their first date. I won't spoil the specifics of it because believe me, it's better you discover all this and more for yourself.
10 episodes all roughly fall just slightly over the 30 minute mark as any good Apatow production is known to take its time but you will not regret giving Love a shot. It's already been renewed for a second 12 episode season set for 2017.
If you have already watched, what did you think?
Tell us what's wrong with this post? How could we improve it? :)
Let us improve this post!