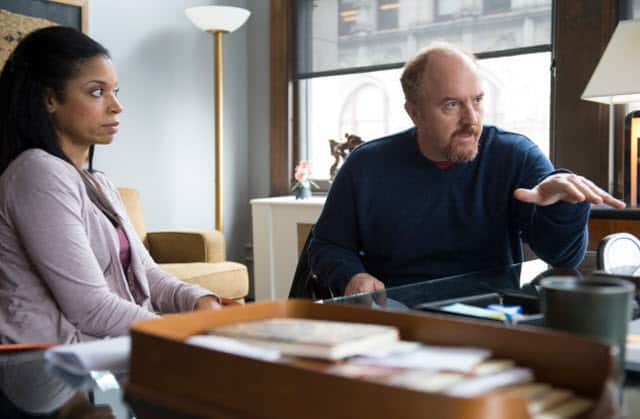 The further we get into this season of Louie, the stronger the magic realism of the series becomes. "Elevator" has dealt with its fair share of surreal situations, but none are so blatant and challenging than scenes such as the fake news reports we get in these episodes, which include the death of LeBron James (which might make some basketball fans in Indiana feel fine right now, considering their struggling Pacers). While there are several ways this detachment from reality is allowing Louie to explore its themes in different ways, I can understand how some people might be turned off by this direction, since–even within the series' experimental form–it's a significant departure.
Take, for example, the flashback sequence we get with a young version of Louie and his wife. Because Louie is adamant about not adhering to typical forms of storytelling and consistency, it's impossible for us to know that the young wife being portrayed in the flashback is a young Janet, specifically, until the credits roll in and the actress is credited under that character name. The younger Louie doesn't refer to her as Janet, and the actress is noticeably not African-American, which isn't unusual for how Louie handles its serialization, but which still distorts our handle on what's going on. During that flashback, whose transition is harshly abrupt, young Janet is speaking to Louie on the other side of a sliding glass door that we don't even realize is a sliding glass door until it is used. This makes her muted speech fit perfectly within "Elevator" and its tone, not allowing anything to be exactly as it seems to be. How this flashback functions within the episode is absolutely up for debate in terms of its usefulness. I can see some viewers taking issue with it, wanting an older version of Louie that was more clear about its goals and comedy. Still, the dissolution of that marriage and how their final moments are handled fall in line with how Louie has portrayed its central character–passive and non-confrontational. It helps that Conner O'Malley, who plays the young Louie, is utterly flawless in his re-creation of that character, from inflections to mannerisms. It's actually eerie how close O'Malley's Louie is to the adult version in the series, which is that segment's biggest success after being true to the nature of that character's decision-making (or, rather, indecisiveness).
How that parallels anything else going on in "Elevator" is a little murky outside of the fact that the choice to make love has detrimental effects in both Louie's past and present. The young Louie jokes about Janet becoming pregnant, but we see that the reality is much less funny, since the adult versions of those characters have been having such significant issues of communication and parenting. Similarly, the choice to make things "serious" with Amia leaves Louie perplexed and shamed once "Elevator Part 5" concludes. The future of that arc, which theoretically ends in one more episode (based on titles), doesn't look good, and the way it is left off here is a good indication that either Amia is upset with herself for acting in the moment when Louie is not necessarily someone she wanted to connect with in that way or else Amia is upset that she has allowed herself to connect in that way, being aware of her limited time in the States and what that will mean for both her and Louie. It has been a beautiful relationship thus far (that beauty occasionally being an off-shoot of the somberness of reality), and it's a shame to see it disintegrate in such a way. Yet, as Louie tells Janet, "sometimes you're supposed to be sad." Even if Amia's departure has a huge effect on Jane or Lily, that kind of experience is somewhat necessary and, in some cases, better to have at a young age as a means of preparation.
The other rather interesting aspect of this week's Louie is Todd's story at the bar. The scene starts off like any other scene, with the characters playfully taking advantage of Amia's lack of English (though some might consider it more offensive than playful, which is fair enough; I tend to think a circumstance like this has to do with these people testing the boundaries of comedy rather than acting in malice or purposeful insult). However, once Todd is asked to outline a normal day for himself, the viewer expects the episode to criticize his kind of character rather harshly for his lifestyle. What we get, though, is the exact opposite of the expected laziness–a day of carefully-plotted decisions that leads up to a gig where Todd is able to obtain a personal victory by getting his misspelled last name changed on his dressing room door. Even here, the magic realism of Louie's fourth season comes into play by having every patron around Todd fully immersed in his story, as if he is the perfect kind of comedian who can create an enthralling narrative out of any kind of material. It's one section from these two episodes that stands out separate from what "Elevator" has been doing overall (we get some more development about what's going on with Jane, which is welcomed and appreciated by me, at least). yet it retains that form of the series that uses vignettes to say several things at once within the 22 minutes it usually has. That may actually be one of the more significant benefits this season has had by airing two episodes on one night. It can tell a serialized story while also including these asides without the asides feeling like they're taking too much time, since they're really only a small portion of a 45-minute segment instead of a 22-minute one.