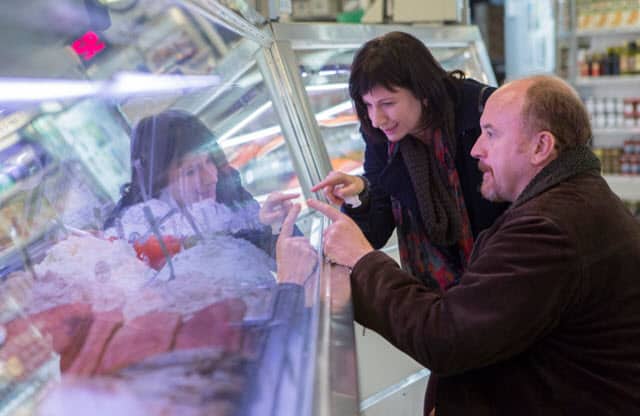 A big reason why the first three seasons of Louie were so successful had to do with the format of the series, which allowed episodes to function as vignettes. Consistency and constancy were never necessities. Maybe Louie had a brother in one season, and maybe he didn't in the next. The seeming aversion to serialization allowed those episodes to take on a more experimental form that pushed Louie into the most interesting of cultural discussions as far as television goes (and until Girls came along, though many people would use a different word than "interesting" to describe those conversations). With those expectations set, it's hard not to have to grapple with formal questions while watching "Elevator" take place. It's still not entirely serialized in the same way a more traditional sitcom is, but C.K. brings back several characters in these episodes, which is almost jarring to witness. Does that make this version of the series less effective? Absolutely not. At least, not in theory. Some people might already be missing the freer format (I'm certainly missing the original theme song!), but Louie has adapted to its semi-serialization in some rather smart ways, which is to be expected.
The return of Pam is the aspect of these episodes that makes me most glad to see C.K. calling on previous material and characters in this show. Caught in the middle of his budding interest in Amia, Pam couldn't have picked a worse time. Louie's facial expressions are comic, of course, but they say as much as any words could say about how Louie is reacting to seeing Pam again. The sequence at the coffee shop, after the delayed and slightly awkward hug in the grocery store, is simply heartbreaking by the end. It's clear that both characters have suffered since being separated and because of being separated. Similarly, both have learned somewhat from their mistakes; unfortunately, that learning causes the rift that we see open up. Pam, unsuccessful in her attempt to make it work with her ex in Europe, has come to see how important Louie is to her and how she might have blown an opportunity at happiness. She goes as far as to use humor to cover up that she can really see herself pursuing something with him. But Louie has hardened after opening his heart to her, and there doesn't appear to be anything left that's strong enough to convince him it's a good idea to let Pam back into his life. Even just a slightly younger Louie of a few months ago probably would be experiencing something different in this reunion, but Amia has flipped a switch for him that allows him to believe Pam isn't the kind of person in which he should be investing his love.
I think the Amia material has worked absolutely beautifully, and most of that is a result of the communication barrier that's there. Ironically, not speaking the same language has made that pairing feel more compatible, since Louie is forced to approach her in a more naturalistic way. If you take language away from a comedian, he can't joke his way into someone else's good graces, but that hasn't stopped Amia for being endeared. It's hard to say what exactly Louie sees to vividly in Amia and why that gravitational pull is so strong, but such is the nature of love for non-cynics. Following in the use of callbacks, we already see Louie try to hold Amia's hand not long after Sarah Baker's character expressed how that was the only thing she really wanted to do to connect more intimately with someone. The other great part about the language barrier is that it gives us a scene like Louie assuming certain things and then reacting according to those assumptions. He tears up his piano with a baseball bat after he thinks his shot with Amia has been pulled off the table, which reinforces some of those crippling feelings of self-doubt we've seen Louie have in the past.
Added on to the love story taking place in "Elevator," these episodes also develop Jane's storyline a bit more. As she tries to explain to her father why she doesn't want to go to school anymore, childish ignorance quickly turns into something more alarming. Jane isn't just fed up; that's not what's causing her problems. She appears to be having issues with reality in general, which makes me think this is something cerebral. And that's not good. Getting a stressful sequence like Louie trying to get Jane back after she steps off the subway is enough drama, but that there might actually be something wrong with Jane is terrifying because of how well Louie turns sympathy into empathy. His helplessness–captured in its rawest form when he's arguing with his ex about sending Jane to private school–is painful to take part in, and while I'm always willing to go along with whatever stories C.K. is telling, no matter how taxing, I'd prefer not to see anything too serious and dangerous happening with his fictionalized daughter. That should say something about how engrossing the world and population of Louie can be.
The last thing I wanted to mention specifically is the violin performance by Amia and Jane in the hallway. Scenes like this, as they appear in television episodes, draw a lot of attention to themselves as heightened moments that are meant to appear beautiful. So, if people write something like this off in the same way that, say, the plastic bag scene from American Beauty forces them to tune out, I get it. But this absolutely works for me and is easily the most emotionally powerful moment of the episodes. It could be that it has to do with the two females who matter most to Louie right now for different reasons coming together in an isolated moment where Louie doesn't have to worry about expiration dates and principals' offices. Or it could be as simple as it being aesthetically gorgeous, visually and aurally. Louie has always had a keen eye for this kind of thing, but this is a series highlight as far as those moments go.
[Photo via FX]