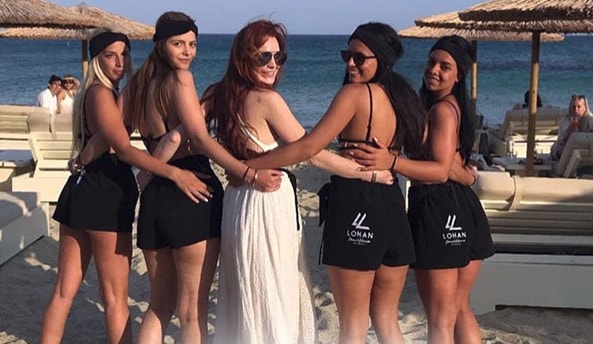 Known and often criticized for her active clubbing days, Lindsay Lohan has decided to create an empire from her reputation. The 32 year old Hollywood celebrity is revitalizing her career and reputation by creating a realty show on MTV. "Lindsay Lohan's Beach Club" focuses on the star's luxury club located in Mykonos, Greece. The reality show premiers on MTV January 8, 2018 and featured a special teaser "Meet the Cast" on January 1. Here are 10 things you didn't know about "Lindsay Lohan's Beach Club".
1. Lindsay Lohan
Lindsay Lohan's natural beauty and talent was recognized early on. She was signed with Ford Models as a child and appeared on the soap opera "Another World" when she was 10. The young star shot to fame in 1998 in Disney's remake of "Parent Trap", in 2003's remake of "Freaky Friday", and in 2004's "Mean Girls". As well as an actress and model, Lohan became a fashion designer and a recording artist. Unfortunately, Lohan's transition from teen idol to adult movie star didn't work out so well. Lohan gained a reputation as a party girl. She had some brushes with the law and ended up in rehab on more than one occasion.
2. First Beach Club
Despite her reputation as a partier and club goer, Lindsay Lohan decided to open her own club. She partnered with Dennis Papageorgiou in October 2016 to open "Lohan Night Club" in Athens, Greece. The dance club was instantly a success. Since the adventure, Lohan has been living mostly in Greece and developing more businesses in the area.
3. Lohan Beach House Mykonos
Lohan Beach House Mykonos opened in May 2018. Lohan's luxury and exclusive resort on Kalo Lavida Beach features lots of sand leading to the Mediterranean Sea, sprawling wooden decks and canopies and overstuffed chaise lounges. There's a wellness center, boutique, restaurant, and of course a bar. Special events and guests are featured at the Beach House. The Beach House has been an instant success.
4. Ambassadors
Lohan chose her staff carefully, especially her "Ambassadors". Club Ambassadors or hosts were found in the United States. The VIP hosts were carefully selected for their looks and ability to manage. Lohan says she wants a "clean fresh" look for her expanding brand. In MTV's "Lindsay Lohan's Beach Club", we will see her staff deal with work relationships, friendships and romance while trying not to get fired.
5. Juliann Wilson
One of the Ambassadors at Lindsay Lohan's Mykonos resort stands out in the MTV realty series. Juliann "Jules" Wilson is from Denver. The tall beautiful blond worked as a model in New York City for 4 years but has been working as a hostess at Denver, Colorado's Temple Nightclub. Jules isn't just a pretty hostess, she seems to know what she's doing and will certainly bring some stability to the realty show.
6. Other Hosts
The majority of the Ambassadors at Lohen Beach Club Mykonos were found in Los Angeles, California. Other locations, aside from Denver, include New York City and Las Vegas. The Ambassadors are young, look good and will certainly add to the drama of the MTV realty series. Ambassadors include Sara Tariq, Aristotle Polites, Billy Estevez, Brent Marks, Gabi Andrews, Jonitta Wallace, May Yassine and Mike Milderrig. They will certainly all get noticed in the MTV realty series as they interact and learn that they are not there for to party.
7. Tough Boss
Lindsay Lohan prides herself on her new realty series as being a tough boss or "Boss B***h" as she calls herself. In the special sneak peek preview that aired on MTV on January 1, Lohan surprised her staff. As her staff is partying a bit too hard, Lohan appears to put them all in their place. She explains that she is building an empire and not "Girls Gone Wild". Lohan warns her staff that she intends to be very hands on in the running of the club and will fire anyone if necessary.
8. MTV history
Lindsay Lohan has a history with MTV, so her new realty series is not her first venture with the cable channel. She has appeared in MTV Spring Break cameos. She's also hosted the MTV Movie Awards more than once. "Lindsay Lohan's Beach Club" probably won't be the last partnership between Lohan and MTV.
9. Lohan paid off back taxes
Before the premier of her new realty show, Lindsay Lohan has paid off over a $100,000 owed in back taxes to the Internal Revenue Service. Most likely this is thanks to her MTV paycheck for the new realty series. She has shown business sense in the move.
10. What's next for Lindsay
Lindsay Lohan is not ready to stop expanding her empire. She plans to open another beach club. This time in Rhoads. She also has plans to develop an island in the World Islands archipelago in Dubai where she will build a luxury resort with a Michelin rated restaurant and resort activities. She also is the spokesperson for lawyer.com and does philanthropic work in Istanbul.
Tell us what's wrong with this post? How could we improve it? :)
Let us improve this post!