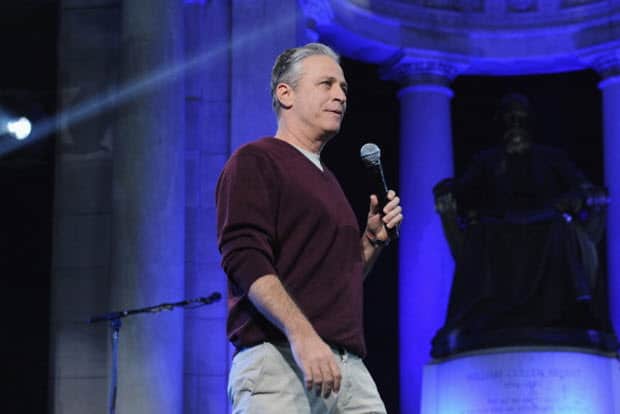 While it can be a bit of a struggle to keep yourself awake all night and tune-in to some of the various late-night TV show options, when you can actually do it, the question becomes which one you'll find yourself watching. Depending on your specific brand of comedy, you may find yourself choosing one host over another. And now that CBS has plucked Stephen Colbert from Comedy Central as the replacement to David Letterman, the network instantly becomes the favorite to steal viewers from the newly crowned king at NBC, Jimmy Fallon.
Based off these current rankings of the most liked late-night hosts, it appears that CBS chose the right person.
5. Jay Leno – Tonight Show
Sure, Jay Leno may have stepped away–or forced out–from The Tonight Show back in February, but he's still the most recognizable host on this list, while also one of the most loved. With a positive Q score of 15, Leno may not have been a favorite of some of the new blood execs at NBC, but the network would have still thrived on late-night TV because of him.
4. Seth Meyers – Late Night
He may be new to the scene, but new Late Night host and former Saturday Night Live cast member Seth Meyers has already left his mark. Whether that's because of his time slot or not is still up for debate, but due to his sketch comedy experience, outgoing personality and appeal as the host of Weekend Update while on SNL, Meyers has busted onto the late-night scene with flying colors.
3. Jon Stewart – The Daily Show
Actually campaigning against the idea of filling Letterman's spot, longtime comedian and The Daily Show host Jon Stewart has shown why so many people like him–he refuses to go mainstream. His dry humor and delivery is what makes him so good, and a place like Comedy Central allows him to be himself–as evidenced by his 16 on the positive Q score.
2. John Oliver – Last Week Tonight
Much like the Stewart and the top spot on this list, HBO's John Oliver got his start on The Daily Show in politics and satirical news. The Brit turned that into his own show, leaving Comedy Central at the end of last year and earning his Last Week Tonight talk show, debuting on HBO at the end of April. Few people may recognize him, but he has proven to be beloved to those who do, with a positive Q score of 18.
1. Stephen Colbert – The Colbert Report
As mentioned in the opener, CBS recently named comedian Stephen Colbert as the replacement to longtime late-night host David Letterman–and they're probably pretty excited about it. While Colbert is short on recognizability, his positive Q score is the highest of any host on this list, coming in at a solid 20.
Tell us what's wrong with this post? How could we improve it? :)
Let us improve this post!