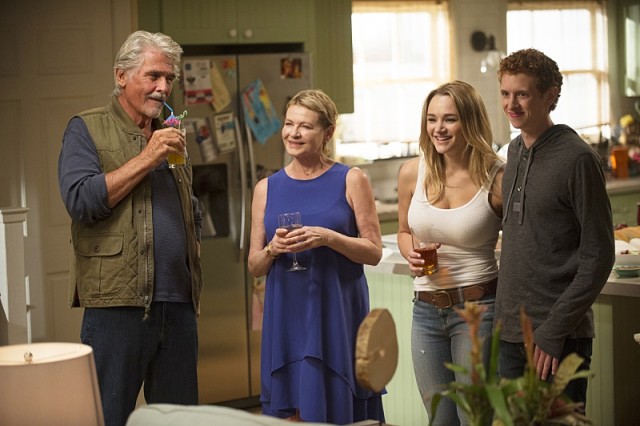 Whimsical and weightless, "Babe Secret Phone Germs" is another half hour of flat punchlines and softball morality plays, tacked on with some extra creepiness for good taste. In the hopes of making Life in Pieces a more entertaining watch, I've decided to approach these reviews by ranking each individual segment on its own merits – since Life in Pieces is four completely isolated stories with no overarching thematic structure (just look at that damn title – what the hell is that supposed to even mean?), this might be an easier way to try and breakdown this show.
So here we go – "Babe Secret Phone Germs," from worst to first:
4. "Tyler's Girlfriend"
This was just painful television – as great as Dan Bakkedahl is at playing awkward, this story was neither the time nor place for it. While I'm willing to buy into the conceit of Tyler snagging an older, attractive woman, the family's reaction to his new girlfriend Clementine is absolutely appalling. The camera screams "LOOK AT BOOBS!" for the next five minutes, while the males of the family turn into drooling perverts, and the women into shrill, self-deprecating monsters. This is somehow supposed to form the basis of "comedy," but the segment never really figures out how, thinking that Tim getting increasingly uncomfortable and inappropriate with Tyler's girlfriend is a deep well of humor (which it most certainly is not). It's the rare occasion an angry look from Zoe-Lister Jones can't save a scene; when that happens, it's pretty clear things have gone direly wrong.
3. "First Cellphone"
Of all four stories in the episode, this premise is probably the strongest: Sophia manipulates John into getting her a cell phone, under the guise that she'll be using it to call him and be the sweet granddaughter she puts on to be. Of course, this isn't the reason she wants it. This section of the episode is mostly her attempts to emulate her family in their attempts to drown each other out, an idea introduced around the now-cliche image of everyone's face shoved into their phones at the dinner table. There's inklings of a good story here about a little girl learning that imitating adults isn't the greatest path to enlightenment or acceptance, but this story just wants to have a bunch of "aww" moments play out in a story about privileged little children manipulating their families to feed their growing consumerist attitudes. Not as gross as Tim drooling over an 18-year old's breasts, but still pretty unsettling and unsatisfying.
2. "Germs"
How are you going to employ Martin Starr, then bury him in makeup and prosthetics and turn him into a disgusting pest control employee? This story might find itself on the upper half of this week's rankings, but it's not for its quality. The other two stories below it are so awful and unfunny, the few laughs I get from Greg and Jen's paranoia about being paranoid about germs are buried in an laughless cameo that plays to none of the strengths of its heavily-disguised guest performer. For the Martin Starr mishandling alone, this might be the most disappointing of them all; again, that's not saying much, since this entire segment was about a skunk in a driveway.
"Work Secrets"
In a very odd way, Matt and Colleen's love story has been the most satisfying part of Life in Pieces, though their stories have been, by far, the most isolated of those on the show. This episode puts them, for five minutes, in a world completely outside of the Short family, transforming into a small-scale cringe comedy when Ken Marino shows up as a lame, thoroughly slimy co-worker of Matt and Colleen's. That's not to say this segment isn't complete without its own off putting material (jokes about overweight coworkers! How original!), but the Matt/Colleen courtship has offered the show a chance to display some goofy, lighthearted personality the other segments have direly lacked. Do they feel completely isolated from the rest of Life in Peices? Absolutely, but in this case, it's a good thing, because the Matt/Colleen scenes are arguably the most satisfying in the first five episodes
Other thoughts/observations:
Again, how the parents behave in the first segment is as unflattering as humans can behave.
Joan's mothering advice is frightening.
I love Zoe-Lister Jones and Colin Hanks as a couple, I just wish it was on another (better) show.
Jokes about the Chest Club belong in 1982, Life in Pieces. You can do better.
[Photo credit: Neil Jacobs/CBS]