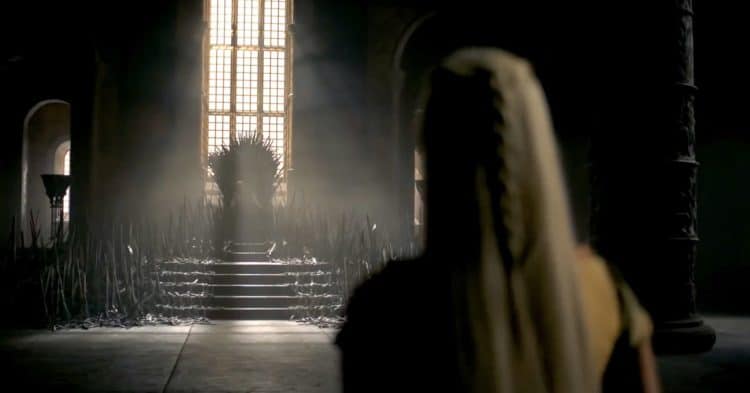 What else is there to say save that war is indeed coming? Well, there's bound to be a lot more to say when House of the Dragon finally makes its impact on HBO Max since many people have wanted to see more of George R.R. Martin's world since the still debacle known as season 8. Despite all the negativity that the final season gets, there were plenty of great moments to be had, but somehow it feels right to say that a lot of moments felt forced and that the entire season was rushed in a manner that didn't allow it to flow naturally. One big hope for this show is that such a thing won't happen with a prequel and that it will be allowed to roll out the way it should. From what can be seen in the trailer, the Targaryens will be running riot on the continent as they seek to fight off other houses and themselves. The line of succession is going to be a huge problem.
Any house with dragons is going to be a massive problem for anyone.
The Targaryen name has been synonymous with a few things throughout GoT, even if their numbers had dwindled to nearly nothing. When it was established that Daenerys was among the last, or at least the last known of the bloodline, the attempts to end her life started coming rather heavily. Now imagine if the Starks, the Baratheons, the Lannisters, and everyone else had had to deal with the Targaryens in more significant numbers. Not only that, but imagine if they'd had to deal with the fact that multiple members of this house had dragons at their disposal. A method of dealing with dragons was indeed discovered, but at the same time, dealing with numerous dragons might have been very different.
A house at war with itself will make for an exciting show.
Suppose anyone has seen the explanation of the story leading up to this prequel. In that case, they'll already know that the Targaryens are not a unified house and therefore aren't bound to get along that well since the desire for power overrules better sense sometimes. One would think that the acquisition of power would be easy enough for a house that employs the use of dragons, but when in-fighting starts, the whole thing starts to fall apart, and the overall power base begins to crumble a bit. Of course, it doesn't help that the Targaryen are known for being afflicted with the type of madness that makes several of them less than stable. Add onto that the fact that they have a reputation for being insanely violent and influential, and it's fair to state that their dragons are just another weapon in their arsenal. That statement in and of itself is disturbing since it makes the Targaryens sound like a group of powerhouses that aren't afraid to take what they want and not worry that much about any collateral damage that might occur as a result of their actions. That's kind of what the trailer conveys.
The infighting appears to be a big part of the show.
There are many things to highlight about this show, and thus far, it's fair to say that many superfans have done this for the rest of us by showing the Easter eggs and the moments that they believe point to the most pivotal moments in the saga. But the furious fights between the various family members have been highlighted since the moment this idea was turned into a working concept. The version of the story that managed to increase the interest for this live-action show yet to come was impressive enough that it lit a fire that GoT fans were eager to gather around to hear another extraordinary tale, hoping it wouldn't let them down. At this point, it does feel that many fans are still waiting for the other shoe to drop and will no doubt be observing when the show finally arrives. But with as much expectation has been built, it's fair to say that people are hoping for the best.
The trailer has set the bar high.
People almost always want to expect the best from their favorite shows and stories, and sometimes they're rewarded. In this case of GoT, the fans felt a bit cheated, but when looking back, it's easy to find the high points and ignore some of the less valuable moments. When speaking of House of the Dragon, there will likely be similar moments, but as of now, it looks like something that will be a breath of fresh air to the franchise.