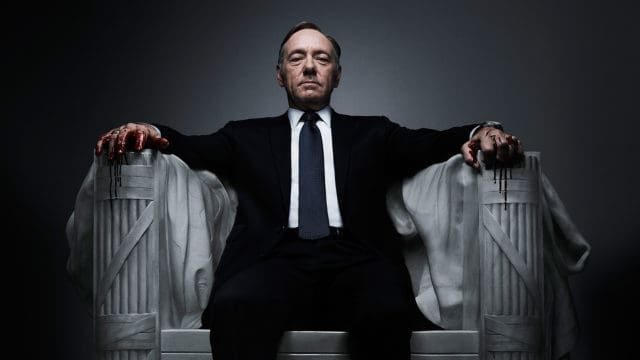 So far the word is that the next season of House of Cards will be the last. It might be for the best since the last we saw of the Underwood's, Frank had been deposed as president and Claire had taken over. However, if this next season will be the last then it likely means that the ideas for spinoffs are well on the way and can be expected sometime around 2018 or 2019 at the latest. Who they'll follow and what stories will be pushed is anyone's guess at the moment since there are a number of people that the Underwood's have either interacted with or made insanely mad throughout the last five seasons and could very well carry their own miniseries if not a full-blown season.
Doug Stamper seems to be one idea, though he seems fit more for a two-part TV movie rather than a seasonal show since he's complicated but is still a creature of strict habits that could be figured out fairly quickly. He's been the right hand of the Underwood's since the show started and has only ever fallen out of grace a time or two since then. The only problem with Doug is what was already mentioned, he's a creature of habit and as a result doesn't have a huge amount of character development since he will almost always go back to his original ways. No matter how outlandish his life has gotten on the show he still goes right back to the drawing board when things get too complicated.
Remy might be a good idea since he seems to be just about everywhere he needs to be in order to effect some kind of change that could help or hinder the Underwood's, depending on his current estimation of them. Remy has been since the start of the show someone that ducks in and out of the main scene, interjecting himself only when it's necessary or when circumstances force his hand. He's not reluctant to get involved, but is instead careful about how deep he gets himself into any particular deal. Remy won't go full ahead unless he knows just what he's getting into, which in the series is a sure way to stay at least one step ahead of the game but also keep ones self safely on the outside at times.
No matter which way the show decides to go with the spinoffs it has planned however the truth remains that the series has circulated around Frank and Claire since the beginning. Even the actor who played the president before Frank took office was more of a background character that allowed the Underwood's a clever foil to work against. Nearly every character in this series, no matter their level importance and no matter their pedigree as famous actors, had to bend to the whim of both Frank and Claire Underwood since they soon enough dominated the scene as was meant to happen.
A spinoff is already going to be hampered by the fact that the Underwoods likely will not be in them.