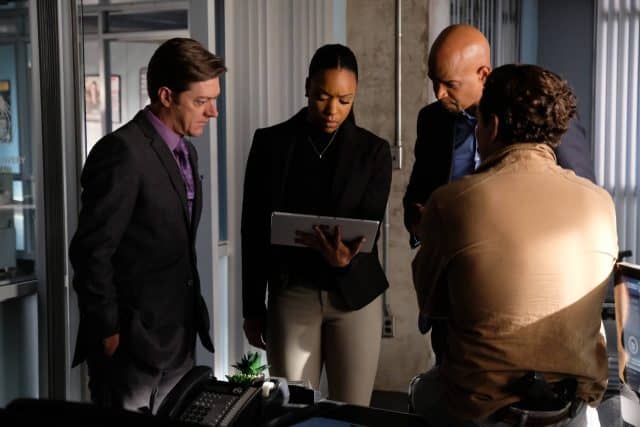 On this Week's Episode of Lethal Weapon Riggs and Murtaugh catch a case that hits close to home for Dr. Cahill.
When a motorcyclist, Sean Hawkins is struck and killed by a truck, Riggs and Murtaugh catch the case. When they go to the last address on the motorcycle's GPS that Bailey and her new trainee Montero gave to them, they find out that he was headed to Dr Cahill's house and that him and Dr. Cahill were dating.
Riggs and Murtaugh go back to headquarters after talking with Dr. Cahill. Dr. Cahill comes into work and wants to help after being told to take the day off by Captain Avery. Bailey recovers footage from Sean's helmet camera and reluctantly shows it to everyone with Dr. Cahill in the room.

After catching a license plate off of the video footage, Riggs and Murtaugh track down the truck at a house with it's engine still warm. When they go inside, they find that the house is vacant except for a camera on a tripod facing out the window looking directly into Dr. Cahill's house. Riggs and Murtaugh quickly realize that Sean Hawkins wasn't the target after all but in fact it was Dr. Cahill.

After finding out that Dr. Cahill has a stocker, Captain Avery brings in another Psychiatrist, Dr. Ronald Levinson to look over her patient files and see if there is anyone who would want to harm her. Dr. Levinson thinks that it is a former patient named Kevin Flynn.
When Captain Avery says that he's going to have Riggs and Murtaugh look into Flynn, Dr. Cahill tells him they're going to need back up. When Flynn opens the door and Murtaugh and Riggs see how short he is they don't understand why they would need back up. When they ask Flynn if he's had contact with Dr.Cahill, he tells them he leaves her messages telling her he wants her to die.
Murtaugh and Riggs quickly realize why they should have brought back up when they go to arrest Flynn and he gets into a fight with both of them. (I thought this scene was hilarious. Don't judge a book by it's cover.) After Riggs catches him and ties him up, Riggs and Murtaugh bring him back to the station to question him. Dr. Cahill tells Captain Avery and Riggs that Flynn didn't do it but when Murtaugh says he's guilty Dr. Cahill questions Flynn herself and gets him to confess that he was actually with his Nana that day and could not have killed Sean Hawkins.

Riggs takes Dr. Cahill home to make sure she's safe but when they get there Riggs realizes someone is inside her house and tells her to stay in the car. When Riggs goes inside to check out the house he tackles a guy down to the ground who says he lives there. When Dr. Cahill comes in she tells Riggs that is her husband. After having an argument with Brad because he won't sign the divorce papers and Riggs questioning him to see if he's the stocker, Dr. Cahill asks both of them to leave.

When Brad calls Dr. Cahill to ask her where she is after she told him to meet her at City Hall, Murtaugh and Riggs realize he's not the stalker after all and race over to City Hall to save him. They get there just in time to keep him from getting hit by a truck.

When he gets back to the station Murtaugh tells Captain Avery that Bailey needs him to expense a DNA test for the saliva that was found on the notes that came with the flowers sent to Dr. Cahill. (This was seen earlier in the episode.)

Meanwhile, Riggs watches out for Dr. Cahill while she's out to dinner. Dr. Cahill knowing that Riggs is outside invites him to have dinner with her. She orders him Chicken Parm after hearing him talk about the soggy Chicken Parm he had in the last session.
When he goes inside she tells him to pretend he is interested and that she realized the stocker is going after anyone he sees as competition. If he's watching them he will come after Riggs and then they can catch him. After Riggs takes Dr. Cahill home and kisses her goodnight he leaves hoping that the stocker will follow him while Murtaugh watches out for Dr. Cahill.
Later that night when Riggs calls to check on Dr. Cahill, he finally gets Murtaugh to open up about what is in the file that Dr. Cahill has on him. (Which Riggs has been trying to figure out the whole episode.) Roger tells him that it has to do with a raid that him and Captain Avery did three years ago when they were partners. He he says that he froze when Captain Avery gave him the signal to shoot the guy holding a gun to Avery's head. And even though Captain Avery eventually talked the guy down it affected other areas of Rogers life.

While talking with Riggs, Roger gets a call from Bailey saying that the DNA on the envelope came back to Dr. Levinson. Roger tells Riggs to get to Dr. Cahill's house fast because Dr. Levinson is inside. When Murtaugh calls Dr. Cahill to warn her, she tries to leave but Dr. Levinson won't let her.

Montero, Bailey's trainee we saw earlier in the episode, comes in and shoots Dr. Levinson in the back. Dr. Cahill quickly realizes that Dr. Levinson wasn't the stocker at all but in fact it was Officer Montero, who was once a patient of hers. When Riggs arrives she hugs him and warns him that Montero is the stocker.
Meanwhile Murtaugh goes to Riggs truck, grabs a rifle and sets up across the street. When Montero won't let Riggs and Dr. Cahill leave, Riggs is unable to shoot him because of the propane Montero let into the house. Riggs uses the signal Murtaugh told him about that he and Captain Avery had, to tell Murtaugh to shoot Montero. Roger shoots Montero in the hand giving Riggs and Dr. Cahill just enough time to get out of the house before it explodes.

Back at the station Riggs and Murtaugh tell Captain Avery that Montero planted Dr. Levinson's DNA on the envelopes with his own chewing gum because he knew they were getting close, and that Montero had a hero complex.
When Riggs goes to see Dr. Cahill, she thanks him for saving her life and tells him that she can't treat him anymore and that she has to refer him to a different therapist. Later that night when Dr. Cahill comes into her office she finds Riggs pretending he is ready to jump off the building and agrees to keep him on as a patient in order to get him to come down.

The side storyline of this Episode is that Roger and Trish find out that Rianne has a fake ID in order to get into clubs for her new job as a DJ. At the end of the Episode Trish and Roger go to visit Rianne at work and Roger realizes that she took his Sly and the Family Stone record that he was looking for earlier in the episode.

Overall I think this Week's Episode of Lethal Weapon was really strong and the twist of Montero being the stocker worked really well.

Save
Lethal Weapon Season 1 Episode 14 The Murtaugh File
Summary
Riggs and Murtaugh protect Dr. Cahill from a stalker in this week's action pact Episode of Lethal Weapon.