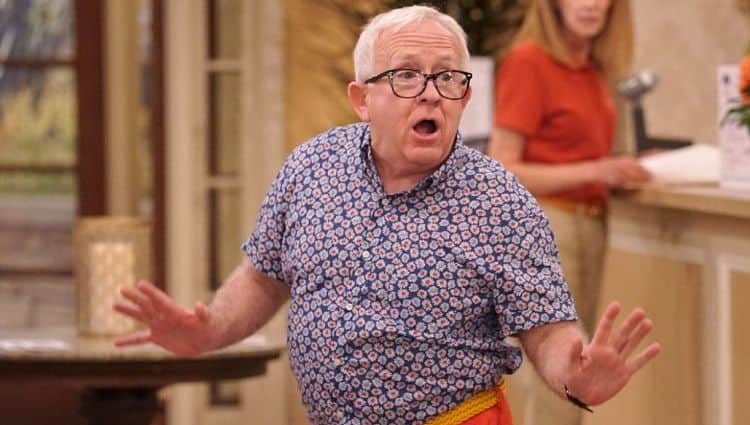 Getting a second wind isn't unheard of in the entertainment industry, but they're not usually anywhere near as successful as Leslie Jordan's has been. Leslie has been acting on screen for more than 30 years, but in 2020 he became a social media celebrity. During the pandemic, Leslie began posting comedic videos on his Instagram account and they all started to go viral. At this point, there are a lot of people who are Leslie Jordan fans without even being familiar with his work as an actor. At a time when may other celebrities are beginning to slow down, Leslie Jordan is still going strong. Keep reading to learn 10 things you didn't know about Leslie Jordan.
1. He Started Telling Jokes As A Way To Avoid Bullying
Kids can be cruel, so growing up can be especially difficult when you're different from most of the other people around you. During an interview with Peach ATL Leslie said, "I was funny as a kid mostly to keep the bullies at bay. You know they used to yell "smear the queer" when we played dodgeball, so I if I could make them laugh, they would leave me alone."
2. He Was Baptized Over A Dozen Times
Leslie Jordan grew up in Tennessee and had a very conservative southern Christian upbringing. He told Philly Magazine, "I was baptized 14 times. Every time the preacher would say, "Come forward, sinners!," I'd say "Oooh, I was out in the woods with that boy, I better go forward. " My mother thought I was being dramatic. She'd say, "Leslie, you're already saved," and I'd say, "Well, I don't think it took."
3. He Has Well Over 100 Acting Credits
Younger people may not realize just how impressive Leslie's acting career has been. The truth is that he's been keeping people entertained since way before social media was even a thing. Since making his on screen debut in 1986, Leslie has gotten nearly 130 acting credits.
4. His Father Passed Away When Leslie Was Young
Although Leslie is all about joking and laughing, his life hasn't always been light hearted. When Leslie was just 11-years-old, his father, who was a lieutenant in the army passed away in a plane crash. In an interview with Today, Leslie told a heartwarming story about how his father went out on Christmas Eve to find a doll for Leslie.
5. He Started His Career With Commercials
Everybody has to start somewhere and in the entertainment industry that somewhere is usually commercials. After moving to Los Angeles from Tennessee, Leslie began looking for work in the industry and he landed some commercial spots with successful brands such as Doritos.
6. He Is A Playwright
There's no denying the fact that Leslie is a natural in front of the camera, but he's also tried his hand at other areas of the production process. His IMDB profile shows that he has three writing credits, two of which are for the plays Lost in the Pershing Point Hotel and Rockabilly Baby.
7. He Was Once In Jail With Robert Downey Jr.
During the late 90s Leslie had some run ins with the law that resulted in him spending a little time in jail. While behind bars, another actor, Robert Downey Jr. was also being brought in. On Leslie's way out, he was told that he was giving up his bed so Robert could have one.
8. He Was A Jockey
Leslie grew up riding horses and his small stature made him the perfect fit for a career as a jockey. He worked as a jockey until he was nearly 27-years-old. Eventually, he was bitten by the ever irresistible acting bug and decided that he wanted to pursue a career in entertainment.
9. He Gained Nearly Five Million Instagram Followers During The Pandemic
Most people are aware that Leslie has become a social media star during the pandemic, but most people don't realize just how well his social media platforms have been doing. During the pandemic alone, he has gained about five million followers on Instagram. He currently has a total of 5.5 million followers on the platform.
10. He Is An Author
What many people don't realize is that, on top of everything else he's done, Leslie is also an author. In 2008, he released a book titled My Trip Down the Pink Carpet. With the success he's had on social media, Leslie has also earned a book deal. His book, How Y'all Doing?, is set to be released in May of 2021. The book will consist of essays about various events in his life.