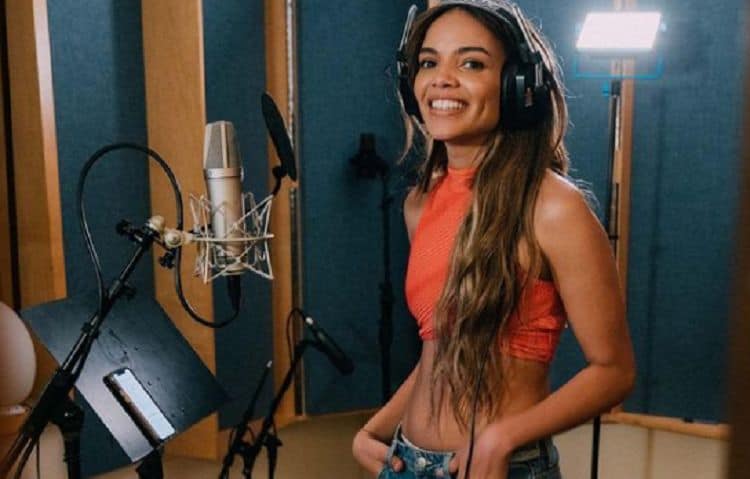 Leslie Grace may be young, but that doesn't mean she isn't ready to take the entire world by storm. The talented singer has been hard at work for nearly a decade and that work has certainly paid off. She has become well-known across the world and her music has earned several accolades. In 2017, her single "Díganle" was certified 2x platinum by the RIAA. In 2018, she had another hit with her song "Duro y Suave". Not only has Leslie already accomplished a lot, but she's nowhere near finished yet. She plans to keep going hard and her fans are excited to see what kinds of projects she releases in the future. Keep reading for 10 things you didn't know about Leslie Grace.
1. She Recorded A Christian Album
These days, Leslie's music is most easily described as Latin pop. At one point in her career, however, she was singing a whole different tune – literally. When she was in middle school, she recorded a Christian music album called Passion as part of a partnership with CD Baby. Unfortunately, the album doesn't appear to be available anywhere online.
2. She Is Originally From The Bronx
Although Florida is the best that's most commonly associated with Leslie, she's actually from New York. She was born in the Bronx and spent the early part of her life living in Yonkers. When she was 10-years-old, she relocated with her family to south Florida where she continues to live.
3. She Is Passionate About Social Justice
Leslie has built a large platform that includes people from all over the world and she has made it a point to use her position to do more than entertain. She is a strong supporter of the fight to end racism and has shared information and resources with her followers on how they can help make positive changes.
4. She Used To Work In Her Mom's Salon
Leslie's mother is a hair dresser who owns a salon in Florida, and Leslie spent lots of time working there when she was younger. She started by simply sweeping up floors and then worked her way up to being able to wash clients' hair. She became well-known for singing while at work.
5. She Has A Sister With Special Needs
Family is very important to Leslie and she has always maintained close bonds with her loved ones. She has an extra close relationship with her older sister who was born with special needs. In December 2020, Leslie gave her sister a birthday shoutout and referred to her as an "angel here on earth".
6. She Has a Boyfriend
Thanks to her talent and good looks, Leslie's DMs are probably constantly flooded with people who would love to take her out on a date. Those people might want to fall back, though. Leslie is in a happy relationship. She and her boyfriend, Ian Westwood, have been together since 2019 and they're still going strong. Ian is an actor and dancer who has gotten the chance to work with several well-known names like Justin Bieber, Tori Kelly, and Chance the Rapper.
7. She Loves Ice Cream
Health and fitness are very important to Leslie, but that doesn't mean she can't indulge every once in a while. During an interview with Billboard she shared how much she loves ice cream – especially Haagen Dazs. She joked that she hopes she never becomes lactose intolerant because she wouldn't be able to give up ice cream.
8. She Comes From A Supportive Family
Lots of people creative people had to spend years trying to convince the people closest to them that working in the arts was a legitimate career path. Luckily for Leslie, that's something she never had to experience. Her family has always been supportive of her dream of becoming a singer and they used to encourage her to put on little performances around the house.
9. She Is An Award Winner
Every artist dreams of the day they win a major award, and Leslie is already living that dream. In 2016, she won a Lo Nuestro Award for Tropical Female Artist. She also won a Nickelodeon Kids Choice Award in 2018. Leslie has also already earned three Latin Grammy Nominations and many believe that an award is definitely in her future.
10. She Is All About Spreading Positivity
Even with all of its lights and glamour, the entertainment industry can be a very negative place. Despite that, Leslie has always done her best to maintain a positive frame of mind. Not only does she like to have this mindset herself, but she also likes to spread it to others.
Tell us what's wrong with this post? How could we improve it? :)
Let us improve this post!