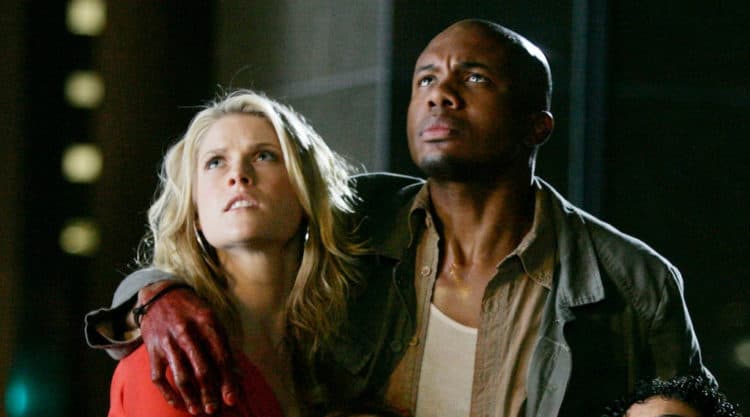 If you were a teenager or young adult at any time during the 2000s, Leonard Roberts' face is one that is probably pretty familiar to you. After making his on screen debut 1996, it didn't take long for his career to start gaining traction. By the early 2000s, he was one of the most well-known rising stars in the business. He appeared in several popular movies and TV shows including the film Drumline and hit shows like Buffy The Vampire Slayer and Heroes. His incredible talent has always allowed him to play a wide range of characters and he brings something special to every role. Continue reading to learn 10 things you didn't know about Leonard Roberts.
1. He Is A Missouri Native
Leonard may be all about that Hollywood life now, but he was actually born and raised in the midwest. He is originally from St. Louis where he attended University City High School and graduated in the early 90s. These days, however, Leonard is based in the Los Angeles area.
2. He Is A DePaul University Alum
After high school, Leonard enrolled at DePaul University in Chicago where he studied at the theater school and earned a bachelor's degree in acting. DePaul boasts a long list of other notable alumni in the entertainment industry including John C. Reilly, Lauren Lapkus, and Tom Bosely.
3. He Was In A Video Game
The average viewer is most familiar with Leonard for the live action work he's done, but he's also a talented voice actor. He was the voice of Tom Nelson in the 2017 video game Hidden Agenda. In 2020, he expanded his portfolio by voicing several characters in the animated series Spider-Man. It'll be interesting to see if he decides to do more voice work in the future.
4. He Believes Race Was A Factor In Him Leaving Heroes
Being cast in Heroes was a huge opportunity for Leonard, but his time on the show ended up being much more short lived than he was expecting. In December of 2020, Leonard wrote an article for Variety in which he shared that be felt his race was a big part of the reason why his character was killed off in the first season.
5. He Is A Private Person
Even though Leonard has been working in the entertainment industry for the better part of four decades, he has never been the kind of actor who relishes being in the spotlight. Instead, he has always been a very private person. He has never shared many details about his personal life in interviews or on social media. With all of the issues that celebrities run into regarding information leaking about their personal lives, it's easy to see why he's chosen to be low key.
6. He Has Nearly 70 On Screen Credits
Over the years, Leonard has been fortunate to find consistent work. At the moment, he has well over 60 on screen credits and the list is growing. Even with his extensive resume, however, there are still plenty of people out there who believe that Leonard hasn't gotten half as much credit as he deserves.
7. His First Major Role Was In Buffy the Vampire Slayer
Every actor has one role that really helped take their career to a new level, and for Leonard Roberts that role was playing Forrest Gates in Buffy the Vampire Slayer. Not only was that his first time being cast in a recurring role, but Buffy was a huge show at the time.
8. He Might Be Married
I wasn't exaggerating when I said that Leonard is a very private person. In fact, he's so private that his relationship status remains unknown. While there are some people out there who do believe that he has gotten married, he has never said anything to confirm or deny this. It's also unclear whether or not he has any children.
9. He Has Theater Experience
Leonard's on screen work is undoubtedly what he's most famous for, but he's also had a career in theater. Like many other actors, there's something about the state that he simply can't get enough of. One of his most notable theater roles was in a 2008 production of the play The Viewing Room in London.
10. He Is Active On Twitter
Despite the fact that he's never been one to soak up attention, Leonard is surprisingly active on Twitter. He has just over 4,800 followers on the platform and he loves to interact with them and his colleagues. As far as we can tell, Twitter is the only social media platform where he has a verified account.
Tell us what's wrong with this post? How could we improve it? :)
Let us improve this post!