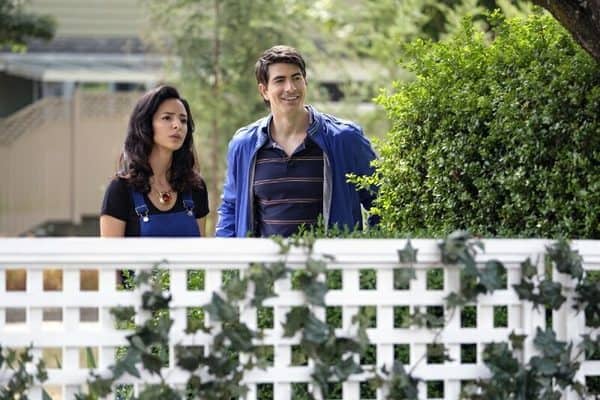 What do you do when you find an alien baby in the sewers? Take him home and keep him. On tonight's episode of Legends of Tomorrow, the team heads to 1988 to save a certain billionaire tech genius. Oh, and I did mention that he has a baby Dominator hiding under his bed right?
The hour began with young Ray running through a lab as the authorities chase after him. The agent in charge coaxes the boy to come quietly, but the latter grabbed the former's keys and then turns up dead. Enter Team Legends as they help keep young Raymond alive. That and getting the baby Dominator, or Gumball, back to wherever it came from.
It was quite the shock watching the young version of Ray shoplifting at a local newsstand. The guy never stole anything in his life, and here he is taking candy bars. Mick was rather proud of him though. What confused me was the shopkeeper didn't notice young Ray putting candy bars in his backpack. On the other hand, it might be that he's busy helping another customer.
I rolled my eyes when Nate flirted with Ray's mother. Yes, she is attractive, but she has a husband for goodness sake! Come to think of it; we've never found out about Ray's family. Are his parents still together or divorced? Nevertheless, it's still no reason to make out with her. Even if she turned out to be the Queen Dominator in disguise. I get that it's the 80's, Nate, but it's still no excuse!
The part where Professor Stein hid his secret project from the team intrigued me. If he was making a communicator that lets him talk to his daughter, then why keep it a secret? He should have said it straight out instead of allowing Jax and Mick jump to conclusions that the good professor is colluding with the Time Bureau. Good thing the truth finally came out and Professor Stein was able to make it to the birth of his first grandchild, Ronnie. At least the rest of the team was able to take care of things back in 1988 or else things would go from bad to worse.
In the end, Mama Dominator got her baby back, and Ray didn't die on Halloween. The world is right again thanks to Team Legends. Though the request Jax made to Ray about breaking up Firestorm shocked me. I mean, it's good that he wants Professor Stein to be with his real family instead of his work family, but how is he going to go about it? I have a feeling that complications would arise from this endeavor.
Final Thoughts:
How can Zari not know who Billy Joel is?! His music is one of the best! Kudos to Nate for being a fan.
Can't believe that Jax, Mick, and Stein would borrow the Waverider like that. Then again, it's for a good reason, so maybe Sara would let it slide once they explain themselves.
Love the tribute to E.T. with the flying bikes and the full moon serving as the iconic backdrop. Speilberg would be proud.
Did not know Ray loved musicals. Also, Singing in the Rain vs. Fiddler on the Roof, which one is indeed the best?
The scene with the M.I.B-esque agents singing and dancing was amusing and a fitting distraction.
Team Legends going trick-or-treating with younger Ray? I am very jealous right now.
Tough love speech from Ray to the younger version of himself hit me in the feels. I'm sure every millennial out there can relate.
Photo via The CW
Legends of Tomorrow Season 3 Episode 4 Review: "Phone Home"
Summary
Team Legends go back to 1988 to save Ray from death as Professor Stein works on a secret project on tonight's Halloween episode of Legends of Tomorrow.