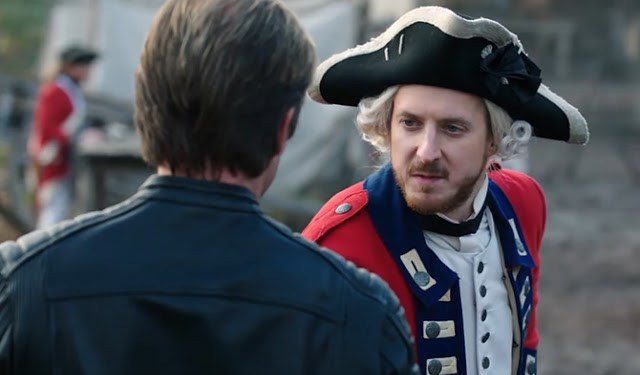 When a villain sets a trap for those fighting for justice, the latter has a choice. They can either fall for it or think of a way out of it. On tonight's episode of Legends of Tomorrow, however, that is no longer an option. There's a time aberration in 1776, and it concerns a certain general and first President of the United States: George Washington. Oh, did I mention that it's Christmas? Yeah, not a good way to kick off the holiday season now is it?
Seeing Rip Hunter go to the dark side is exhilarating, to say the least. I'm not saying keep him evil forever; I mean that it's great to see Captain Hunter back to his old self again. Even if he's not the version of the Rip Hunter we once knew. Evil Rip knew everything about the team and his way around the Waverider. He stated outright to Jax that he taught the latter everything he knows about the time ship.
Though there's one thing that I don't quite understand. How is Evil Rip able to use a device that looked suspiciously like the Medallion to disable everyone's powers (well, except for Nate and Amaya)? Did Eobard show him how or did he somehow figure it out for himself? Need some answers here!
Back to the rescue mission, it's not going too well. Mick, along with General Washington, got caught by the British Redcoats and brought to their camp. Washington tried to get General Cornwallis to spare Mick's life as the latter was only following orders. Cornwallis agreed, but he will release Mick after Washington is hung for treason against King George III. Wow, remind me to not negotiate with British people. Though I'm pretty sure that they're a lot nicer now. Right? Someone back me up, please?
The episode then took an interesting turn with regards to Nate and Amaya. The two seems to be getting closer after Amaya saved Nate from dying of hypothermia. That and she wiped flour off of his nose as a loving girlfriend would. On the one hand, it's nice that romance is added back into the equation, but I have to agree with Amaya. It's all moving a bit too fast. Good thing she stopped it from going any further by telling Nate that teammates shouldn't fraternize. Don't go blaming Hitler for this one, Nate!
In the end, the American Revolution is back on track thanks to the Legends. Though now Evil Rip has the piece of the Spear of Destiny that Good Rip kept in his telescope. Jax had no choice but to reveal the location of the Spear fragment to save Sara's life. Evil Rip snapped her neck anyway even after getting what he wanted from Jax. I've said it before, and I'll say it again: Never make deals with villains! They will screw you over once they get what they want from you! Take it from a person who's watched her fair share of action movies and crime dramas!
I also enjoyed the part where Mick told General Washington about how the latter is on the one dollar bill, and Benjamin Franklin is on the one hundred dollar bill. Oh, Heatwave, you amuse me greatly. Hope you like your statue that Washinton put up in your honor! Just don't melt the thing with your heat gun, okay? The scene where Professor Stein and Jax tried to merge into Firestorm to save Sara made me laugh out loud. They tried, again and again, to join after the EMP (Electromagnetic Pulse) happened but to no avail.
I would also like to applaud Sara for stopping Jax in time before the latter had a chance to shoot Evil Rip. I believe that the Good Rip is still in there somewhere and killing him would ruin any chances of getting him back. That and they have to get the Spear fragment back and stop the Legion of Doom from finding the rest of the pieces so they can rewrite reality. Godspeed, Team Legends, godspeed!
Photo via The CW
Legends of Tomorrow Season 2 Episode 11 Review: "Turncoat"
Summary
Team Legends go to 1776 to save George Washington and their country from being wiped from existence in this week's episode of Legends of Tomorrow.