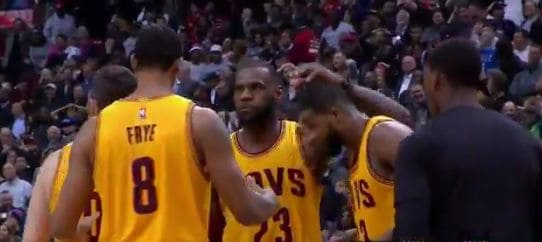 It could be that Charles Barkley ignited Lebron James to play harder. Perhaps all the news in the past week has gotten to King James. Whatever the reason, Lebron James put on a display against the Washington Wizards last night. James had 32 points, a career high 17 assists and 7 rebounds in an overtime thriller in which the Cavaliers defeated the Wizards 140-135. However, hands down the best play of the night came with only .3 seconds left on the clock.
The Cavs were down three and had to make a miraculous play to tie the game up. After initially missing an uncontested lay up to tie the game on a previous play, James redeemed himself shortly after. Kevin Love threw an incredible full court pass to James who did a quick turnaround over Bradley Beal and banked home a three pointer to tie the game up and force overtime. It kind of looked like the Christian Laetner shot against Kentucky only this one was from a lot further out. A LOT further.
Now, I don't think Lebron called "bank" but still, this shot was ridiculous. Bradley Beal couldn't believe it. The crowd couldn't believe it. The announcers were in shock. Is this the time when Lebron James decides to turn it up and the Cavaliers show they're still the best team in basketball? Remember this moment folks.
Check out this shot below:
ARE YOU KIDDING ME?#LeBronJames ties it up w/ the THREE off the glass! pic.twitter.com/8fuNrHqprL

– NBA on TNT (@NBAonTNT) February 7, 2017
Tell us what's wrong with this post? How could we improve it? :)
Let us improve this post!