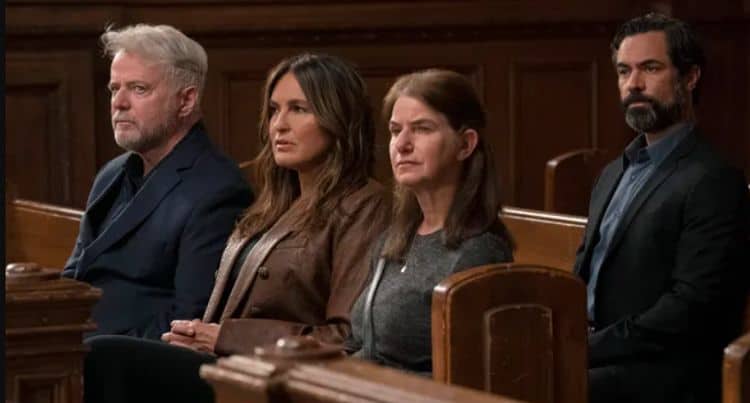 NBC has been promoting Detective Amaro's surprising return to Law & Order SVU for the show's 500th episode for the past couple of weeks. On Thursday night they finally hit that major milestone which is a huge accomplishment for the series. The 500th episode paid homage to its star; Olivia Benson with an episode that explored the captain's past. The episode was very much nostalgic with appearances of familiar faces from the past like Captain Cragen, the medical examiner Melinda Warner and a flashback of Detective Stabler and Benson – all characters that helped make the series a hit. Detective Nick Amaro's highly anticipated return wasn't exactly epic but was good to see the detective back with the crew like in old times. Here's a quick recap of what happened during the hour-long 500th episode.
Nick Amaro's Arrival
The scene opens with Oliva walking Noah to school and like all kids, he's full of questions. These questions hit a little bit deeper because he's curious about Olivia's mom. Olivia keeps her answers short and sweet which is to be expected because if you are a real fan of the show then you know that Olivia and her mom had an estranged relationship. When Olivia finally gets to the precinct she heads to the interrogation room where she finds Rollins and Amaro talking. It's no surprise that the first person we see Amaro interact with is Rollins since the two detectives were involved before Amaro left the show. It's been years since she's been face to face with her old partner, but it's all love because they quickly embrace each other. Amaro has finally found his calling. After leaving SUV, Amaro went back to grad school for genetics and forensic science and now works for a big company called Forum that uses new technology to analyze DNA in old cold cases. The company was hired by a true-crime writer that's looking into an old SUV case from the nineties that involved the rape and strangulation of a 15-year-old Haley West on her prom night. Haley's prom date Ian admitted to the murder but he recanted his statement during sentencing claiming that he didn't remember anything from that night because the assailant knocked him unconscious. He has maintained his innocence for the past twenty years and was even denied parole after he said he couldn't show remorse for a crime he know he didn't commit.
An Old Flame
The crime writer interested in the case ends up being Burton Lowe, a famous writer who made a promise to the convicted man's dying mother that he would help her son. Burton Lowe also happens to be the man that Olivia fell in love with and was engaged to when she was sixteen years old. Olivia met Lowe when he was twenty-one as a student in the college class that her mother taught. When Olivia's mom Serena found out about their relationship she told Olivia that Lowe had a girlfriend at the school and made her breakup with him in a letter. According to Lowe, Serena threatened to have him expelled from the school he continued to see her daughter.
The Detectives Come Across A New Lead
Amaro obtains DNA evidence from Glenda the SUV's medical examiner and his company discovers that the DNA in Haley's underwear doesn't match Ian. They start to re-interview everyone that was involved in the case years ago and eventually hone in on Mr. Murray. He was the tennis coach at the school Haley attended and a close friend of the family. The detectives talk him into submitting his DNA and they discover that it's a match to the seminal fluid in Haley's underwear. Mr. Murray eventually admits to committing the crime in court.
True Colors
Believe it or not, decades later there is still chemistry between Burton and Olivia. They end up picking up where they left off all those years ago. For a minute, we're happy for Olivia because if it's anyone that deserves to be loved by a good man it's her. Her bliss abruptly comes to an end when one of Burton's former interns accuses him of raping her ten years ago. Olivia recuses herself from the case but the detectives keep her in the loop. Since the sexual assault occurred ten years ago and the statute of limitations is up Burton won't be facing any charges. Olivia toys with the blurred lines of consent when she listens to the victim's story but then more women come forward and claim that they were also assaulted by Burton. Olivia learns that Burton was grooming his victims. Olivia notices some similarities in the way Burton had groomed his rape victims. When Olivia refuses to take up for Burton publicly and denounce the rape allegations she sees his true colors. Olivia realizes that the love she thought they had shared wasn't real but he had been taking advantage of her naivety and trust.
What did you think of Law & Order's 500th episode? Leave a comment below.
Tell us what's wrong with this post? How could we improve it? :)
Let us improve this post!