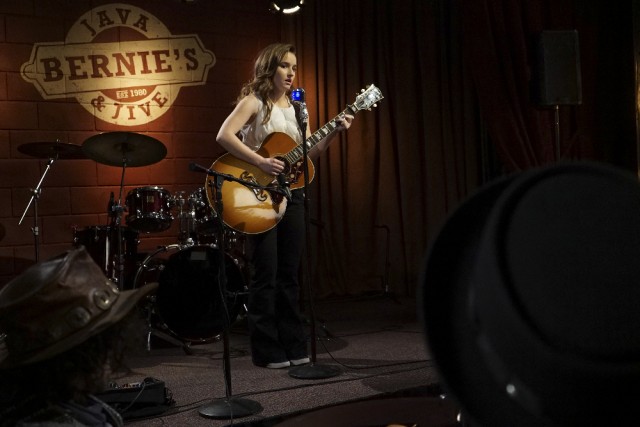 One of the things I like most about Last Man Standing is their courage to tackle realistic families and topics. They don't shy away from politics or religion, and as such their characters problems are real and relatable. While not the best rated sitcom on TV, it's comforting that it feels like a real family. I really appreciated the exploration of Eve's fears and apprehensions about rejection, and Kyle and Ryan's differing views on religion. You wouldn't think it at first glance, but this show has a diverse cast and I love the interesting characters.
This week on Last Man Standing: Eve's band begins practicing in Mike's garage, much to his chagrin. They don't sound great, but instead of telling them that, Mike arranges a gig for them. Eve plays the gig solo and succeeds. Meanwhile, Kyle and Mandy babysit Boyd so Ryan and Kristin can have a night out. Boyd, who had been lying to his parents, had his eyes opened by Kyle. Blake Clark guest stars.
I was actually quite impressed with the emotional weight this episode carried. Eve in particular, still reeling from her West Point rejection, radiated with emotion and apprehension about her music. The performance just felt so genuine and real. Kaitlyn Dever has always done a great job on this show, but as she's matured beyond 'snarky younger sister', she's developed Eve into a strong character. As funny as I found other parts of this episode, Dever's Eve carried the emotional depth of a mature, adult actress, and color me impressed!
I really appreciate the entire Ryan/Kyle/Boyd interaction. Though Ryan has always been anti-religion, and Boyd's conversation with Kyle mislead Ryan at first, I really appreciated the understanding reached between them. Kyle can be an idiot and man child (perhaps that's why I love him most), but when he's involved in serious matters I'm always taken aback at how well the whole thing goes. They didn't paint either Christianity or Atheism in a negative light, and I have a lot of respect for that approach.
The episode's direction seemed particularly good and I couldn't figure out what was different about it. It seemed like messages were clear and concise, and it didn't lose the spirit of the show. Then, I returned to the opening credits to find this episode was directed by Jonathan Taylor Thomas. Not only was there a Home Improvement reunion between Tim Allen and Blake Clark (Harry, from Harry's Hardware), but between them and the episode's director as well. JTT seems to have a knack for sitcom directing, and I was really impressed with the outcome. And I LOVED Home Improvement, so there's that.
As always, here are some of my favorite quotes/moments from the episode:
"What's good Mr. Baxter?" "Not this."
"I think the salad might be burning"- Vanessa isn't particularly great at excuses
"I think they've done the impossible. I'd rather listen to Hillary."- Mike
"Can we go to the candy store later?" "Oh! Can we?!"- Boyd and Kyle have the same interests
"I'm not a music critic, but I like to criticize other people. He's an idiot!"- Mike
"I think I know where the guy's head's at. Maybe I can pull it out of there."- Mike
"Oh no, my friend Tom. He's got a kid that steals, too."- Kyle is never talking about the thing you're thinking about.
Mike's great at trolling, but giving Cammy the trombone idea was gold.
This episode was still amusing as ever, and it carried a lot of emotional strength. I like this show a lot because I relate so well to all the characters, and that just makes the jokes funnier. This was the strongest episode in several weeks.
What did you guys think? Did you enjoy this episode? Let us know!!
Tell us what's wrong with this post? How could we improve it? :)
Let us improve this post!