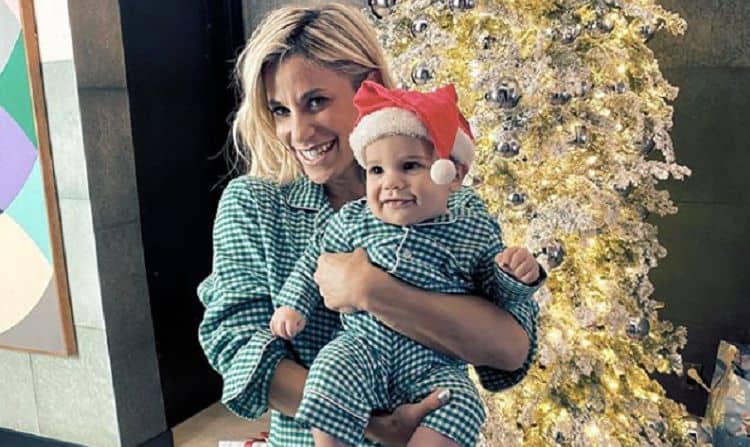 Lana Gomez to many is simply known as Sebastian Maniscalco's wife, but to others, her reputation stands on its own. Lana is an interesting and talented individual who just happens to be married to a popular stand-up comedian. We've heard so much about her in his content throughout the years that those who do not follow her work, wonder who she really is and what she does, besides support her funnyman husband in his professional endeavors. Here are 10 things you didn't know about Lana Gomez to clear up the mystery.
1. Lana Gomez is an artist
From the time that she was a young girl, Lana had an interest in art, which developed into a serious talent. She is a painter and she and her father shared this passion. She enrolled in the University of Tennessee where she studied art. After finishing her studies, she relocated to Los Angeles, California where she became a professional painter, creating works on canvas and even creating some sculptures.
2. She's a native of Naples, Florida
Lana was born in 1983 to her parents, Barry and Simone Gomez. She was raised in a Jewish household and will be 36 years old on September 6th. The fact that she was raised to be Jewish and that her husband is from an Italian family gives Maniscalco a lot of material to make fun of the differences between their families, particularly when it comes to celebrating the holidays. It's all in good fun and it's what he does for a living.
3. Lana is good-natured and long-suffering
Lana has long been the subject of many of her husband's jokes. Although she has a great sense of humor herself, she's not a comedienne. She travels with Sebastian when he's on his comedy tour, with the full knowledge that he's going to use her in his material, and she's good with that. Maniscalco is one lucky man and fortunate to have a wife who is both supportive and enthusiastic of his career as well as good-natured and thick-skinned.
4. Lana and Sebastian met at a gym
The couple was both working out at the same gym and they even had the same trainer. It was Sebastian who initiated talking and at first, she didn't show a lot of interest in dating him. He used his humor on her and although her initial response was to reject his request to go on a date, she eventually relented and the two have been happily married ever since 2013.
5. She's a mommy
Lana Gomez and Sebastian Maniscalco brought their first child into the world in May of 2017, four years after they tied the knot. Their daughter's name is Serafina Simone and her nickname is "Cellie Rose." Their second child Caruso Jack joined the family in June of 2019. It hasn't been that long since they had their last child and we know that Lana has her hands full with a two-year-old and an infant, but we think that she's up to the challenge.
6. You can find her on social media
If you're interested in keeping up with what's currently going on with Lana Gomez, she maintains a healthy social media presence. She has a Facebook page as well as Twitter and Instagram. Gomez also has an official website to keep her fans updated on new events and happenings in her career as well as her life. She's had a lot of exciting things happening with the birth of their second child. You can also find her profile on IMDB and Wikipedia
7. She's a very wealthy lady
Lana Gomez isn't the kind of girl who just sits around the house doing nothing all day. She pulls her weight in the relationship and in the family as a full and all-in partner. Gomez has an incredible net wealth. As of 2019, her personal wealth is estimated to be at $6 million. That's not bad considering the fact that there are a lot of starving artists. Lana Gomez is also a hard worker and she applies herself to her chosen profession, but she still makes time for her husband and children.
8. Lana Gomez is famous as an artist
Lana previously had her own showroom for her art in West Hollywood. Her art has been the featured work in the Greystone Mansion. She also did some work with Kelly Wearstler. Because of this, her art was featured in a book titled "Hue." One of her guitar sculptures is displayed in Guitar Town which is located on Sunset Strip. She has gained a fair amount of attention for her talents as an artist.
9. She and her husband own a beautiful award-winning home
Lana is an artist and her home reflects her class and style. She and Sebastian own a home in West Hollywood which has been decorated by Wearstler, and there is a lot of Lana's art hanging on the walls there. The home has appeared in Lonny, House Beautiful, Los Angeles Confidential, InStyle and the New Yorker. Gomez also won the California Home and Design Magazine's Tastemaker of 2014 award for the outstanding decor.
10. Lana Gomez has it all
Now that we know a little more about her, it's obvious that Lana Gomez is somewhat of a celebrity herself. She's well-known to those in the art world, she has great taste and a sense of style, she's an accomplished artist and she has a beautiful family. She does it all with style and grace. She's raising two beautiful children with her professional comedian husband Sebastian, she maintains her own career while taking the time to be supportive of her husband's career, going on tour with him when she can. Lana Gomez has created a wonderful life for herself and her family.
Tell us what's wrong with this post? How could we improve it? :)
Let us improve this post!