On this week's Kourtney and Kim Take New York, we are heading toward the big two part finale and the big divorce. Kim returns from Dubai and is not herself. Khloe is still in town and the two sisters are still not speaking to each other. Despite attempts from Kourtney and Scott to mediate, they cannot seem to make up.
We finally find out why Scott and Kourtney sleep in separate beds. Scott is not a good sleeper and is easily disturbed. When he's tried to sleep with Kourtney and Mason, he ends up leaving in the middle of the night. Khloe reminds them of their mini therapy situation from the Hamptons weekend but is disappointed that nothing has changed for the better. She decides to help them with this sleeping arrangement, and has a heart to heart with Kourtney about it.
Kim meets with Jonathan and complains about the awkward Khloe situation. He reminds her of their nasty fight when Kim called her nasty names ('evil ugly little troll') and tells her to apologize. Kim feels that since Khloe is always rude to her, why should she feel bad for the ONE time she is rude back. She really feels the name calling is no big deal. Even momager Kris tries to appeal to Kim to apologize for her nastiness when they have to do press and Kim and Khloe are on opposite sides of the room. Again, Kim asserts that Khloe speaks like that (name calling) on a daily basis. Kourtney thinks the name calling shows there's a lot of anger beneath the surface, probably dating back to when Kim got engaged and Khloe was less than enthused about it.
Hubby Kris tries to defend her to the gang, claiming that Kim always says things she doesn't mean when she's angry, but the others say there is no excuse for acting like that. Kim knows she has felt weird since the Dubai trip and makes an effort to reawaken her feelings for Kris. She invites Kris to hang out with her and Jonathan, but Kris begs off, leaving Kim feeling disappointed. Even when the gang go out to dinner, there's tension. Kim is trying to have fun and relax, but feels like Kris tries to annoy her and just isn't nice.
Kourtney and Scott see their therapist to discuss their sleeping problems. The therapist makes them realize they eventually have to transition Mason out of Kourtney's bed. Even at the suggestion that Mason sleep in their room but in in his own bed, Kourtney's eyes well up with tears. Scott feels displaced by Mason but refuses to insist Mason transition. He knows that Kourtney will end up resenting him if he even tries. That night, Scott and Kourtney attempt to sleep together, and finally, it works. Scott was able to stay in the bed the whole night. When Kourtney asks him how he was able to do it, he simply says because he's missed her so much. Scott is very grateful to Khloe for her help,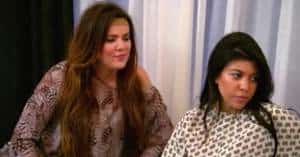 Kourtney attempts the first of two mediation sessions between Khloe and Kim. She gets Kim to apologize but Khloe doubts her sincerity and doesn't accept it. Scott says if people don't calm down and appreciate what they have, life will pass you by. Very deep for the dapper Don Disick. Kourtney again tries to mediate but it backfires. When Kim and Khloe hash it out, Kim says Khloe is shady which prompts Khloe to get up and walk out. Kourtney think Kim's stubbornness is getting out of control. Next, Scott tries his hand at mediating because he can't take the tension in the suite any longer. He reminds Kim that family is important and she needs to chill since she's always in a bad mood and is cold to people, He tells her she never used to be like this. Kim knows she has problems but doesn't know how to fix them.
Kim seeks comfort from Kris, who says he hates Khloe and doesn't really care about this. The only advice he offers is to give it a week. Kim sees his advice as dismissive and that makes her more depressed. Kris confides in his friend that Kim is acting weird since she got back from her trip. He doesn't want to be involved in the fight with Khloe because he knows they are sisters and will work it out. When Kris confronts Kim about her strange behavior lately, she doesn't really say much. Given that, Kris leaves the room. Kim admits to herself Scott is right, she is in a bad mood and can't get her mind off all her problems. She takes a deep breath and tearfully confronts Khloe. She admits she is very unhappy, doesn't like who she is in this marriage and doesn't like who she is to anyone, including Kris. They ponder if getting married was the right thing to do, and Khloe says she believes Kim and Kris got caught up in moment. Khloe tells her marrriage is not all rainbowns and bunnies every day, why not see what happens when they get back to L.A. Kim doesn't know if she wants to.
On next week's Kim and Kourtney Take New York, Kim visits a medium to connect with her late father, Robert Kardashian. Part 1 of the Kim and Kourtney Take New York finale airs on Sunday, January 22 at 10 p.m. (ET) on E!
Tell us what's wrong with this post? How could we improve it? :)
Let us improve this post!