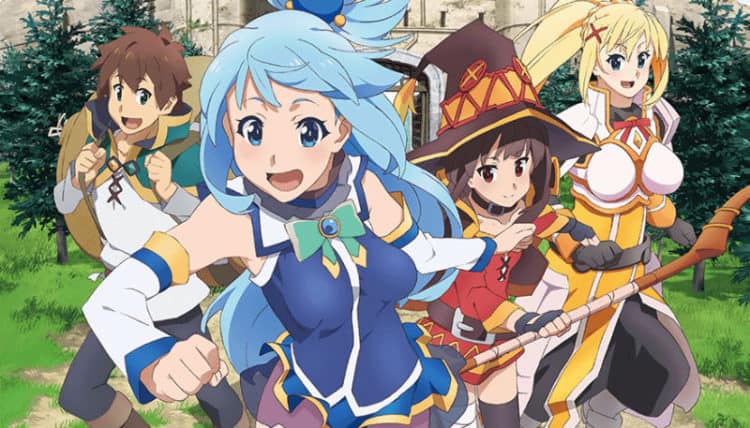 KonoSuba is short for a name that translates to something along the lines of "A blessing to this wonderful world," which explains the subtitle for the English version. For those who are unfamiliar, it is centered around a Japanese boy named Sato Kazuma, who has been sent to a fantasy world with the mission of defeating the Devil King. In this, he is joined by a goddess-turned-priestess named Aqua, a powerful spellcaster with a single spell named Megumin, and a masochistic knight named Darkness, all of whom have some rather serious issues to say the least. Here are 10 things that you may or may not have known about KonoSuba:
1. It's an Isekai Parody
KonoSuba is a member of what is called the isekai genre, with isekai meaning something along the lines of a parallel world. Essentially, isekai works feature protagonists from Earth being transported to some other setting through some means, which is something that has existed for years and years but has exploded in popularity in recent times. However, KonoSuba stands out in that it parodies those of its counterparts that play things straight.
2. Started Out as a Web Novel
Like a lot of isekai works, KonoSuba started out as a web novel, which was turned into a light novel, which was turned into an anime and other spinoffs. As a result, a fair amount of the future content is known, though there are significant differences between the web novel and the light novel.
3. When in Doubt, Blame Aqua
For example, Aqua was the one who was responsible for the rise of the current Devil King in the web novel. So far, it remains unknown whether this is true or not in the light novel, but considering some of the things that have been revealed, it seems probable that its version will be different but still be caused by Aqua in some manner.
4. Eris Is a Lot More Active Than Most People Would Expect
People who have watched KonoSuba will be familiar with Eris as the much more dutiful and conscientious stand-in for Aqua in her position. However, it is interesting to note that she actually has a more prominent role in the series than it seems on initial inspection, which is something that people who pay close attention to the hair colors of the characters will be able to figure out.
5. Megumin Taught the Axis Cult
Like most of the characters, Megumin can't stand the scammer behavior of the Axis Cult. Ironically, it turns out that she was the one who taught them those tactics in the first place.
6. Megumin Was Taught Explosion
Speaking of which, Megumin was taught the Explosion spell by someone who she met before the events of the main series. Said character has already shown up on numerous occasions in the series, but they will presumably be showing up in a more important role in the future of the anime at some point.
7. There Was a Video Game Released with the Second Season
Amusingly, a limited edition of the second season of KonoSuba was released with a simple but nonetheless entertaining RPG game made using RPG Maker VX. Said game was quite faithful to the series on which it is based, with the party characters being every bit as situationally useful as they are supposed to be.
8. There Is a Megumin-Focused Spinoff
KonoSuba is popular enough for it to have spin-offs. One example is the spin-off series focused on Megumin, which explores how she got started as well as some of her past.
9. There Is a Vanir-Focused Spinoff
Likewise, Vanir is another character who proved to be popular enough to have his own spin-off novel. This shouldn't be mistaken for the manga spin-off, which featured Vanir but focused on Dust.
10. The Princess Is Strong
One of the side heroines who hasn't appeared in the anime so far is Princess Iris of the Kingdom of Belzerg, which is the kingdom in which most of the series takes place. Amusingly, while Iris is still 12 years old, she is actually more capable as a party member than either Aqua, Megumin, or Darkness because while she can't match them in their specialties, she more than makes up for that by lacking their crippling weaknesses. In part, Iris is strong because of her training. However, it is entertaining to note that she has inherited the strength of her heroic ancestors as well because it is something of a tradition for a successful hero to marry into the royal family.
Tell us what's wrong with this post? How could we improve it? :)
Let us improve this post!