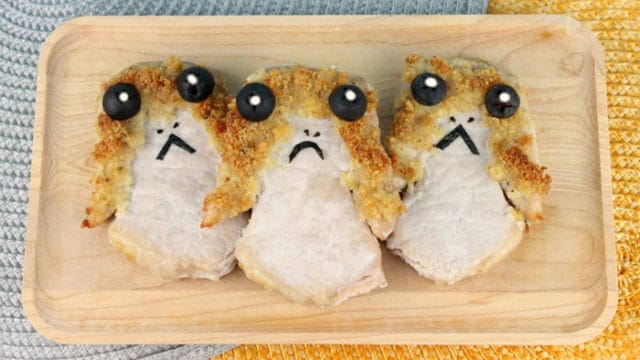 You know you want this porg chop recipe. You know you do. You want to see those big, doleful eyes staring up at you as you take a nice big cut out of them and start to chew on that first delectable bite. Boy that got dark quick. At least now you might have an idea of how Chewbacca felt during The Last Jedi when he was trying to enjoy a nice meal and had to stare down no less than a small gaggle of porgs wondering why he'd roasted one of their number and was about to chow down.
This dish is easier to make than it might be to eat at least since all you you need are a few pork chops, some nori sheets, black olives, bread crumbs, butter, Parmesan, salt and pepper, and a healthy appetite. The nori, which is seaweed, is used to make the mouths and nostrils of the porgs, while the black olives serve as their eyes. The butter, bread crumbs, and Parmesan will serve as their distinctive hood, or in other words the darker coloring of their heads. All you have to do is cut slits into either side of each chop to simulate the wings, add on your ingredients, and then cook them for a while and serve. If you can't bear the thought of biting into these delectable chops then you might want to think about a different recipe that won't make you feel guilty as you dismember it piece by piece.
The porgs are little avian creatures that are found on Ahch-To, the planet where Jedi Master Luke Skywalker went into exile. In many ways they were thought to be the new Ewoks of the new trilogy, but it seems more like they were a one and done kind of creature that was amusing for a moment but hopefully might not be in the next episode. One thing that some fans might be hoping for is that in the future of this franchise the story will become less Disney-esque as it's been for so long and become more adult-oriented. It might not be likely to happen unless Disney realizes that they could very well lose revenue if they keep too cutesy and decides to finally step it up a notch. But with things being the way they are they might decide that the current formula still works and won't do anything to change, which could be a mistake.
One thing you have to keep in mind though is that the cute schtick seems to be something that they're willing to bank on since the Ewoks did get their own movies and comic book. I don't see this happening with the porgs since they're more of a wild animal than a sentient creature but you never seem to know with Disney any more. The fact that porgs became popular before the movie even came out suggests that they might stick around for a little while, but it's kind of hopeful that like this meal they'll be gone eventually, guilt-free.
Tell us what's wrong with this post? How could we improve it? :)
Let us improve this post!