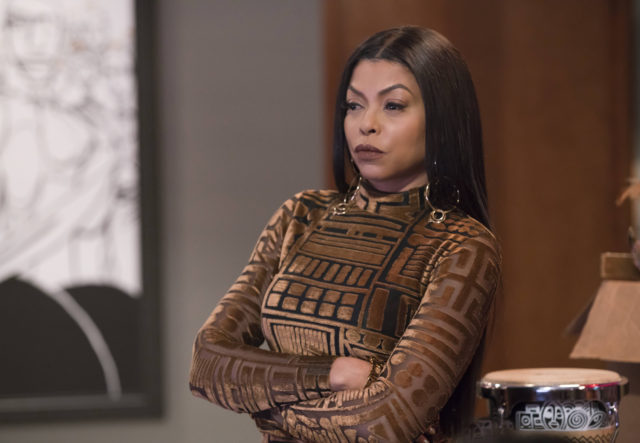 Okay, if you are a Taraji P. Henson fan, then you are really going to love her latest movie thriller. The title of the film is Proud Mary, but that title does not do the film justice. The film is directed by Babak Najafi. First of all, allow me to quickly set the stage for you. Taraji is a hit woman, there I said it – "hit woman" – for a crime syndicate located in the city of Boston. Boston is definitely a fitting place to set a movie built around organized crime, being that only New York and Chicago has produced more organized crime families. Okay, maybe Philadelphia is in the running.
If you are like me, there is something about a woman who knows how to handle herself like Angelina Jolie in Salt and Mr. & Mrs. Smith or Scarlett Johansson in the Avenger series. There is something completely intriguing and empowering about a woman that can handle her business. Alright, enough of that for now.
During the trailer, Henson is dressed in all black leather and she walks into the secret weapons closet that will put James Bond and the Punisher to shame. Trust me, she is prepared for anything that could possibly come her way. Imagine having a job that is filled with action and excitement each and every day. You know, having bullets flying around your head is just another day at the office.
Of course, this would not be a good movie if all Mary got to do was go around killing people for hire. Everything turns around for Mary when she comes in contact with a young boy as a professional hit goes terribly wrong. While the plot can be superficially predictable there are some twists and turns in the movie that you will definitely not expect.
What is predictable is the fact that her encounter with this young boy will start to change and transform her cold demeanor – turning her into a person who cares. Anyone who has watched at least five hitman movies knows that a hitman, or in this case, a hit woman who starts to care is a liability to herself and her employers. So, now Mary has enemies on both sides, and she does not know who to trust.
What I love about this is the fact that Taraji Henson is an award winning actress that is being converted into an action hero, so the quality of the acting will be off of the change. There have been a number of mixed martial arts stars that have transitioned into film, but the product has been less than stellar because the acting sucks. Here, the action is nothing short of extraordinary and the acting is of the highest standard – giving fans a lot to look forward to.
So, if you are not a Taraji P. Henson fan, you will be after this film. She has the perfect balance of beauty, sensuality, and toughness to make women proud and drive men crazy. This movie is a must see.