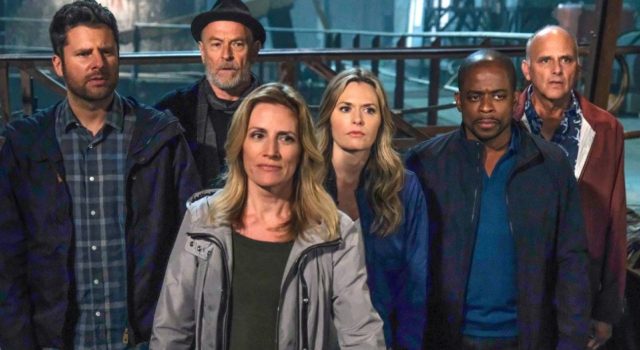 If you're a fan of the television series "Psych," then you'll be pleased to know that the USA Network is bringing the famous and beloved fake psychic back in grand style. "Psych: The Movie" promises to bring a return of the hilarious disguises, the silly nicknames and all of the crazy stunts that he and Gus are so famous for delivering. We've just learned about the new movie and here is everything we know so far.
A cast reunion
The Movie reunites the original cast and we've been told that we'll see the return of James Roday, Maggie Lawson, Corbin Bernsen and Dule Hill. The character Carlton Lassiter is going to be back as well, but we won't see a lot of him because Timothy Omundson suffered a stroke just prior to filming.
Who are the new faces we'll see?
Jazmyn Simon will make an appearance in the role of Selene, who is the new flame in Gus' live. She's going to liven up the party by giving the pharma rep some healthy competition. Duke is going to have a new assistant to do his dirty work with the appearance of Charlotte Flair, famed WWE wrestler. In addition, Zachary Levi is jumping on board and will portray the Thin White Duke. Jimi Simpson will play Mary Lightly, in yet another posthumous appearance, Kurt Fuller comes on board as woody the Coroner and Ralph Macchio of the "Karate Kid" fame joins as Nick Conforth.
What we can expect
There will be no cessation of the comedy as the crew has a new case to break. This event is going to hit a little closer to home as a mystery villain is out to get one of their own. The fakes are donning their roles as Burton Guster and Shawn Spencer open up a new office that will be located in San Francisco. They call it Psychphrancisco, and it's sure to make some viewers smile and others groan. They are in the process of solving one of their most troubling cases as one of their own is the target of a mystery assailant and the group are out to make certain that justice is served.
We may also see a lesser plot with Chief Vick's daughter, but not in a positive sense. The opener shows us a sneak of Juliet and her partner chasing a shoplifter downtown. When they catch up to her, it turns out that she's Chief Vick's daughter. While they're at it, they may just bring the whole family on board with the mysterious husband of Chief Vick, Richard. There have been hints about him actually showing up and what better time? We may also see Juliet's brother return as John Cena is also slated to be in the movie to complete the major cast.
The premiere is coming soon
There is no holding back on the announcement for the premiere date because it's coming soon. "Psych: The Movie" is scheduled to air on the USA Network Stream Online on Thursday, December 7, at 8:00 pm/7:00 central time. You can also catch it on Fubo TV, which is available to try for free.