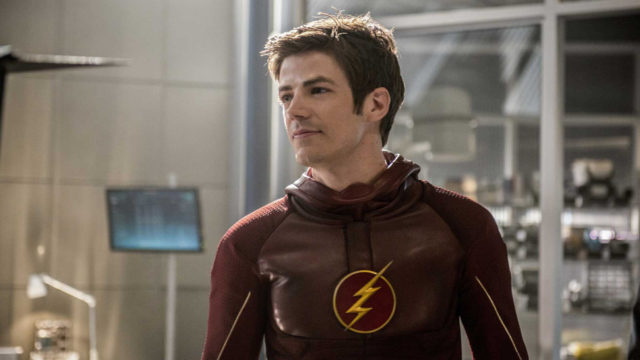 Initially Grant Gustin was made to run when he was filming The Flash for the CW. As of now however, thanks to CGI an green screen technology all he has to do is exert himself as he moves his upper body. The editing team takes care of the rest. At this point it's all a matter of how he moves his upper body to give the impression that he's moving as fast as the crimson-clad superhero can go while the editing folks do their job to make sure that it's believable onscreen. At one point the director and the crew would even blow a fan in his face to simulate the experience of running fast so that the shot would look accurate enough.
However when it's revealed that the Flash's legs and feet aren't shown all that often it was only natural to think that what wasn't being shown could be omitted and the sensation of the Flash running as fast as he could be simulated using his upper body. If you watch the Justice League during the Flash sequences when he taps into the Speed Force you should be able to see that Ezra Miller is moving his arms and legs very slowly. While a lot of this is done for effect to simulate the fact that he's going very fast he at least has to go through the motions since his entire body is being shot. Gustin has the advantage here since all he has to do is move his upper body in order to show that he's running. It might be a bit strenuous having to do this over and over again, but it seems like it would be a little easier than the original routine that had to be followed. Just imagine wearing the skin-tight suit and having to run for take after take in an effort to get the shot right. Gustin would have needed an EMT onsite, which there usually seems to be anyway, in order to safely do this kind of thing. But with the way things currently are he can go take after take and not run the risk of exerting himself all that much.
The part about Gustin's role that is actually pretty funny is that he's been challenged to race when he's been seen on the street by fans that want to see what he's got in terms of speed. For some it's just a pleasant way to show their love of the show and to probably have a chance to say "I beat the Flash in a foot race" even if it's all fiction and Gustin doesn't really have access to the Speed Force. Fans don't tend to care, they simply want to show appreciation of their favorite actors and have that one moment in their life when they dared to challenge of their favorite superheroes.
As for Gustin running on the show, it's revealed now and while some people might have already guessed there's probably still a few that thought he might have been putting in the work. Well, to be honest he used to, but once the chance to use a different method came along he wisely chose that path.