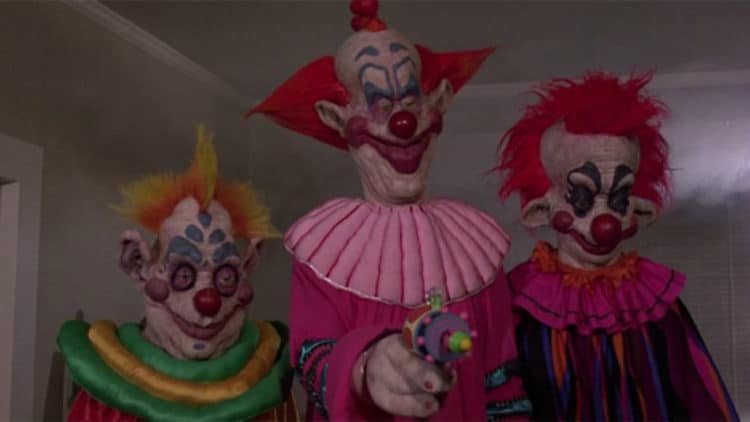 No, they aren't remaking the incredibly terrifying cult classic Killer Klowns From Outer Space, yet. Though we'd be perfectly happy to see some more cult classic films get an HD and modern special effects makeover: this flick is staying just as it is. However, for anyone who first learned to fear clowns, not from Pennywise, but from these psychotic and murderous aliens, we have terrible news. Universal Studios is resurrecting the original nightmare Klown Posse at their Halloween Horror Nights this year.
Last Seen
If you think this story sounds oddly familiar, you're (sort of) right. Not only are many of us familiar with the 1988 film Killer Klowns From Outer Space, but they showed up last year. In 2018 Universal Studios Hollywood brought back a lot of childhood trauma and gory good fun with their scare zone. They decided the perfect crew of miscreant macabre murderers had to be the Killer Klowns and of course, everyone's favorite possessed toy Chucky. They were right, and it was utterly terrifying and hugely popular. Whoever is in charge of the Halloween machinations over there is a genius, and they probably spent a lot of time around movie executives. Why do we say that? Well, as we all know, any movie that does too well at the box office is a candidate for a sequel. Unlike the films of the late '80s, sequels now are often as good or better than the first. We're looking at you Star Wars, Bourne and Spider-Man.
Coulrophobia
If you're one of the many people who are freaked out by clowns, you're not alone. We don't just mean the killer kind from space either. Coulrophobia, the scientific name for clown-phobia isn't all that common. However, there are a whole lot of people who feel uncomfortable around their hyper-realistic exaggerated proportions and unnatural makeup. For those who launch themselves over the couch and cower in fear when Ronald McDonald shows up on TV, this probably isn't for you. Maybe you should stick to a nice calm haunted house full of ax-wielding psychos and more stereotypical scares. However, if looking at clowns just gives you goosebumps and raises the hair on your neck then you're in for the time of your life this year at Halloween Horror Nights.
Universal Fears
This year's bi-coastal event can be found at both Universal Studios Hollywood and Universal Orlando Resort in Florida. This year's events are more extensive than the previous Scare Zone. They'll be bringing back the Klowns you saw before, but that's not the end of it. More characters are included this time. You'll see the baby Klowns Boco and Klownzilla along with other new faces. If there's anything creepier than a murderous child, it's a mini-killer in clown paint with big floppy shoes giggling at you as they seek your blood to fuel their lust for carnage.
Trigger Warnings
In addition to new characters and a whole haunted house, Universal Studios is stepping up their game this year. The sense of smell is one of the most visceral and intense memory triggers. You'll encounter wafting odors of your favorite fairground foods. The succulent and sweet aromas of things like ice cream, cotton candy, and stale popcorn aren't a sign that you're approaching a Ferris wheel. Instead, you can safely assume that when you smell fair treats, the Killer Klowns aren't far behind.
Space Ship
Fans of the original will instantly recognize the circus-tent spaceship. This iconic vehicle will transport you to another world of pure terror when you see it. Make sure you keep your friends and loved ones close as you face the alien fiends or you just might lose someone you hold dear. Looking at the stars will never be the same after that. Independence Day's got nothing on psychotic clown extraterrestrials.
Death By Cotton Candy
When you thought you were safe and the Klowns have picked another victim, you may find yourself face to face with their food storage room. Here, corpses and the living alike are trapped withing their dastardly cotton candy cocoons, awaiting the next Klown who goes looking for a midnight snack. One of the most brilliant things about this movie, and doubtless what catapulted it into cult status is the use of the familiar and fun. Instead of a lively ride on a carousel and a bit of funnel cake, you find grisly murder and bladder opening fears around every corner. Twisting what brings us joy into the stuff that fuels our worst dreams is a profoundly psychological scare that you'll remember for sure.
Not Alone
The Klowns aren't the only ones returning, so even if you don't end up getting hit by one of their ray guns, you won't be out of the woods. Chucky's Back with his own horror show again. The possessed doll is an icon of horror, and you'll never feel safe in a toy store again. In fact, all the fun and thrills of the scare zones are inspired by the 1980s. The characters from Stranger Things have their own area, and so does the famous flick Trick 'r Treat. So put on your best neon tutu and midriff shirt and join in the fun. Anyone who grew up in the '70s and '80s is going to go bananas over this nod to our youthful fears. Millennials won't go wanting, however. These vintage thrills are making a comeback that would make Cher proud. If you missed out on the '80s era horror movies, now is the perfect time to stay in, avoid some summer heat and start psyching yourself up for what's in store this fall.
Final Thoughts
For the brave who love their Halloween fun, there's nothing like a tremendous spooky setting to really get your adrenaline flowing. If you're looking for the ultimate freak show and haunted house in one, then you're in luck this year. With more than a month, thirty-four full nights of chills and thrills, there's going to be plenty of opportunities to enjoy the show. Plan your trip between September 14th and November 3rd if you don't want to miss out on the gruesome good times and ghoulish giggles.
Tell us what's wrong with this post? How could we improve it? :)
Let us improve this post!