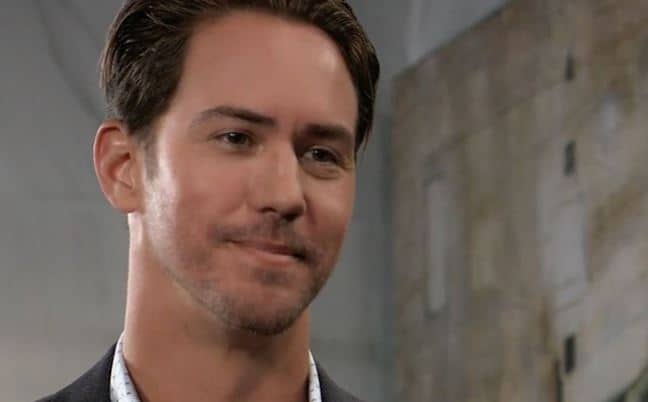 General Hospital fans are always just so upset for Josslyn. She's a mess, and we really just all want to see her succeed. Her little young life has been such an emotional roller coaster this far, and we just don't know that she can handle what is going on in her life right now. She has been through the loss of a brother, her father took off, she hates her stepdad, her mother was locked up, she was friendly with a horrible person who tried to ruin their family, her brother lost his baby, and he almost lost his life in an accident. Her good friend Oscar could die of cancer or something else that his mom is probably lying to him about, and her family is a disaster. Her mother has to find a way to help her, but Carly's not entirely herself after all this. There's so much going on, and we aren't sure she can handle what's coming for her family right now. There's too much at stake.
And then there is Sonny. He's in the middle of a big deal with his father. He's not well, things are not going their way, and then there is Oscar. He can't be nice to his mom or his dad. Jason is trying to keep it together for everyone, Sam is finally speaking her mind, and Alexis is working so hard. Ava is causing all the problems — again — and she's gotten it handed to her more than once lately. There's so much going on, and fans are just looking to a new week to see if anyone can find any sort of resolve to the issues they are currently living with. We don't know if they can or will, but we will see if it all works.
What's Happening on General Hospital
TONIGHT: @hudsonwest takes to the dance floor on the premiere of @DWTSJuniors! Help us get the word out: #TeamHudson is one to watch. @Dance10Hayley #KameronCouch #DWTSJuniors #GH55 pic.twitter.com/I2tHmOZo6E

— General Hospital (@GeneralHospital) October 7, 2018
It's just the best when kids are talented, and this young man certainly takes the cake as far as we are concerned. We are so excited about all of this, and we cannot wait for you to see for yourself just how good this one is. Can you agree?
What's Next on General Hospital
SNEAK PEEK: Jason and Sam's hot and heavy reunion is rudely interrupted… https://t.co/3UecHLOGKF #GH55

— General Hospital (@GeneralHospital) October 7, 2018
It doesn't seem to matter what happens when Ava is in the room, she will always find that someone has something to say to her. She's a mess, and everyone is upset with her these days. She's made some very big mistakes in her life, and most of them have to do with hurting her daughter. The simple fact that Kiki bothers with Ava after the fact that Ava was partly to blame with the entire death of Morgan is beyond us. But then Kiki did sleep with her mother's boyfriend, so there's that. They don't have a traditional mother/daughter relationship, and that's pretty apparent. At least, we hope and assume that's not the traditional kind of mother/daughter relationship.
For now, though, we don't know what might happen when these two are in the same room. What we do know right now, however, is that Kiki is not happy with her mother. Ava has done another something to upset her, and this will result in her daughter telling her she needs to get it together. Ava's not having much luck these days with all that is going on in her life, but she's been chastised already last week, and she's making marks needing it again this week. Will it have anything to do with the situation she dealt with when Sonny was around, or will she have something else to deal with as she continues to get her life in order? Since she's not going what she should be doing, we have a feeling that Ava is out for more trouble than she can handle.
Stay tuned for more General Hospital and be sure to check out TVOvermind daily for the latest General Hospital spoilers, news, and updates.