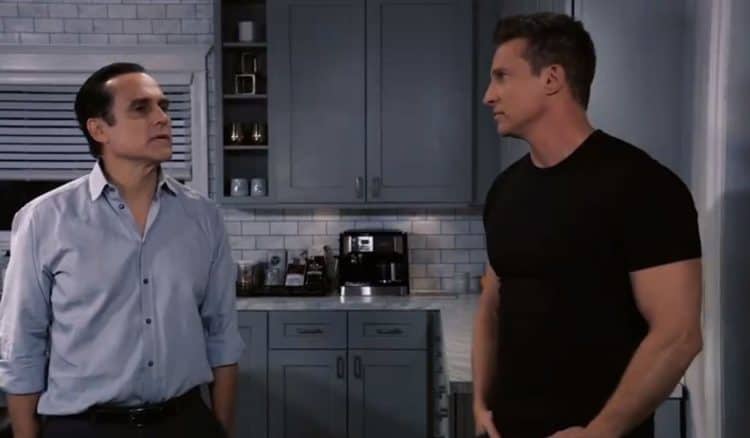 General Hospital fans spent the day yesterday watching as Sonny was badly hurt from a gunshot wound, and he was in critical condition. No one thought he would live, and Carly would not leave his side. This was the man she loved the most, and she was not about to let him die without being by his side no matter what happened. She spent some of the time she was by his bedside wondering if he would live or die thinking of their time together. Their crazy first meeting, the heartbreak behind their first marriage, the surprise they both felt when they actually fell in love when they were married the first time, the hurt she felt when he would not leave the mob for her, the hurt she felt when he left her and got another woman pregnant, the sadness they felt at losing babies and children and the wonderful way they felt when they came back together. They've been through it all. But, perhaps it was the moment she read his vows to her all over again that took us back. Today, we get to go back to 2015 for the second day in a row to see the day they get married again.
The Paternity Mess
In the days leading up to this wedding, the world was a mess for them. They actually were not together, but they were growing closer working so hard to keep a secret from their son, Michael. Things were not going well for them, and they didn't know if they would ever go well again. Carly was actually engaged to marry Franco at the time, but that clearly did not work out. You see, Sonny killed A.J. and Ava killed Connie, and Carly found proof of this. She gave the tape she found to Sonny and let him do with it what she pleased, but that was when he found out that Ava was pregnant and it might be his baby but it might also be his son's baby. Morgan might be a father, and this was a horrible situation all the way around. Sonny hates Ava, and either of them being her baby's father would be a mess. She and Sonny worked very hard to make sure that Michael would not find out this was happening, and that lie is what made them feel close together again.
Prison
When Franco found out that there was a huge situation going on with his fiance and with Sonny, he made sure everyone found out about it. At the wedding. He turned Sonny in for his part in the death of A.J., and Sonny went to prison. That's when Carly decided that the baby he was having with Ava would be a baby she raised herself so help him out. She stood by his side, but it turns out that Michael decided to adopt baby Avery and care for her himself. Of course, this was after Morgan and Kiki tried to raise her on their own. They were her older siblings, and they felt that they needed to do this while their parents were in jail. Michael won custody when Sonny was released, but he decided he would allow Sonny to raise his own daughter with Carly afterward. There was a lot of drama in the prison sector, and there was a lot going on with all of this, and we cannot say that things didn't work out well.
The Wedding
When he was released from prison, he and Carly knew that they needed to get married right away. One, because they were in love. Two, because he knew that it would help when he tried to get custody of his daughter, Avery. Of course, the first attempt did not go well and he almost died. However, the second one worked out well. They were able to get married on October 14 that year at the hospital while their friends and family stood around them to watch the wedding and be there. That was that for them, and their lives took a horrible turn after that. We do think this might be one of their last happy moments.
Tell us what's wrong with this post? How could we improve it? :)
Let us improve this post!