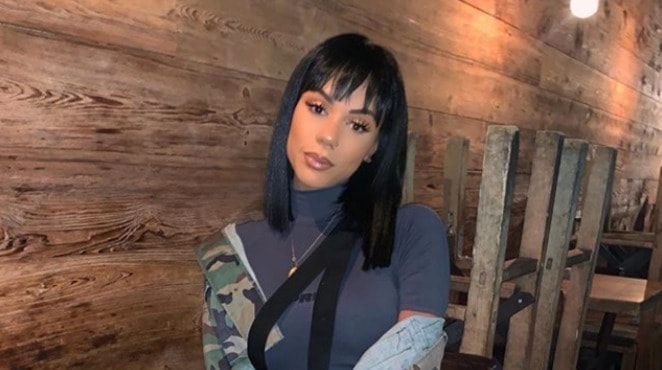 Kenya Scott is a renowned star who is rapidly making her name in the world of reality shows. According to Celebstrendingnow.com, she is only 23 years of age but already sending shock waves with her impact on reality television. Kenya hails from New York, and her biography reveals that she was raised by blind parents. She claims that this helps her believe that she is not limited to anything and can achieve whatever she wants, including all the hot and high-caliber men. She joined the trending American reality show "Are You the One?" alongside Tevin Grant, another hotshot in reality. Terrence J hosts the show and entails matchmaking romantically challenged young people and placing them in one house for them to figure out with whom they have been matched. The winning couple walks away with $1 million. Besides her television appearances, there are several things that you probably don't know about Kenya Scott. Such include the following:
1. Her personal life
Most of Kenya Scott's personal life is a mystery maybe because she is just getting started in the stardom world. However, according to AMNY.com, Kenya was born in Chelsea, Manhattan, on September 28th, 1996. She, however, relocated to Long Island with her parents when she was in high school. After high school, she proceeded to New York to coin out a career as a makeup artist. The only mention of her parents was that they were blind.
2. She worked as a Makeup Artist
When she is not blowing minds away on reality shows, Kenya Scott works as a professional makeup artist. She is an expert in art and makes other stars look good before going live on their shows.
3. Her popularity
Kenya Scott is a prevalent figure in the world of reality TV shows. She can be described as a pied piper of the Instagram owing to the thousands of fans that follow her every step. As revealed in the Famous Birthdays website, in the popularity weight, Scott fares as follows; in the world of great celebrities, Kenya is ranked at 17371. In the celebrities born on September 28th, she is ranked 40th while she appears 2nd in the category of those whose names start with her first name. Furthermore, Kenya, as of last year, was ranked 16th in the group of celebrities in her age bracket.
4. Social media presence
As said earlier, Kenya's popularity has garnered her multitudes of followers on the different social media platforms. Thousands of adoring fans are always on her heels trying to catch up with the flow of her celebrity life. On Facebook, she is not active but flaunts over 1000 followers and the same number on twitter. However, the highlight of her social media is her Instagram. Here she boasts of 114k followers whom she entertains with her countless pictures of her hot body. She has been using this platform to mobilize her fans for support in the "Are You the One?" show.
5. She is a model
Kenya Scott is also a popular model. In her Instagram account, she flaunts her body in designer attires such as bikinis and beautiful clothing for different clothing lines. Moreover, she advertises cosmetic products for her customers. Some of her outstanding customers include Lauren Hair, Plugged New York store and Executive Styles Cosmetics. Her massive number of followers provides a platform and a potential market for her clients.
6. Her Hobbies and Interests
Kenya Scott is one soul that thrives on fun and goes a long way to satisfy this part of her human needs. As revealed on her Instagram account, she is a typical party animal. She is pictured in multiple pictures out with friends having a good time. Kenya also likes a good swim, and she is pictured enjoy herself on sunny beaches and swimming pools. Moreover, her modeling is also a hobby she adores; most of her posts are all modeling. Kenya also is a good singer as supported by several clips on her Instagram.
7. Her Relationship History
Due to her good looks and fit frame, one might deduce that Kenya has been in multiple relationships. However, her appearance on "Are You the One?" sets the record straight; she is not dating or married. Kenya Scott does not trust anyone, and therefore, says that she works under the principle of playing before getting played. There are claims that her eyes for other men is to blame for her unsuccessful relationship life, which contradicts her stand on zero trust policy as she is the one not to be trusted. Kenya went to the show hoping that it would help her handle relationship issues.
8. Her Net Worth
Kenya Scott's net worth has rapidly increased over the years. By last year Kenya's net worth stood between $500k and $ 1 million but has increased to between $1 million and $10 million in 2019. Her annual salary is not specified, but the website claims that she derives most of her earnings from her acting career in the reality television shows. With her incorporation into the exciting reality show, "Are You the One?" her worth is bound to hit the rooftop. Sponsors are even paying closer attention to her Instagram.
9. Her Dream
Kenya Scott is already living her dream of breaking into the world of reality shows. For a starter, she has been successful and has vast potential in reality TV. It is just but a matter of time before she hits the stage, receiving awards and accolades. Her talent is openly visible, and by signing up with MTV, her potential can be exploited fully.
10. Her Shortcomings
Kenya Scott's most significant weakness could probably be her overconfidence. She is a go-getter, but by being overzealous, she risks disappointment in the industry. Many actors dive into the pool of acting fearlessly and carelessly to quickly make an impact only to be disappointed by multiple challenges within the sector; competition is one of them. Patience, which she rarely has is the best refuge for her.