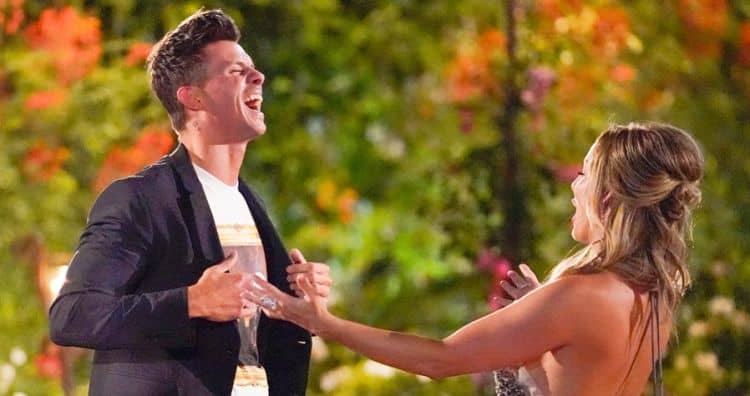 Kenny Braasch isn't ashamed to admit he's looking for love, and he also isn't afraid to go on national TV to find it. As a contestant on season 16 of The Bachelorette, Kenny is one in a group of hopefuls looking to score a shot with Bachelorette, Clare Crawley. The season is just kicking off, but Kenny is already off to a good start. Not only has Clare taken a liking to him, but viewers think he's a good option, too. Between his good looks, charming personality, and work ethic, it's easy to see why. But as we all know, none of those qualities guarantee a place in The Bachelorette's heart. As he continues his journey through the season, fans are excited to see how things play out for him. Continue reading for 10 things you didn't know about Kenny Braasch.
1. He Doesn't Like Cheese
All of the cheese lovers out there may find it hard to believe that there are people on this earth who don't like cheese, but Kenny Braasch is one of them. According to his bio on the ABC website, he "hates" cheese. There's no explanation as to why, but hey, to each his own.
2. He Was Once On The Steve Harvey Show
Kenny isn't a TV star but any means, but The Bachelorette isn't the first time he's ever been in front of the cameras. In 2015, he appeared on an episode of The Steve Harvey Show which was originally filmed in Kenny's hometown of Chicago before production moved to Los Angeles.
3. He Is A Model
Kenny's good looks are the first thing that most viewers noticed about him and they have gotten him lots of opportunities in life. He has worked as a model for many years and has been signed to several agencies along the way. He has gotten to work with some big brands including Neiman Marcus.
4. He Was A High School Sports Star
Kenny was a competitive athlete for most of his life. He attended Oak Lawn Community High School where he was a member of the varsity baseball and basketball teams. His days playing sports may be over, but hopefully he's able to tap into that competitive mindset to help him out on The Bachelorette.
5. He Founded An Entertainment Company
In many places, Kenny's occupation is listed as a boy band manager. While this is certainly true, that's not the full extent of what he does. He is the co-founder of The Right Stuff Entertainment. In addition to managing groups, the entertainment company also hosts events and handles marketing tasks for artists.
6. He Is A Diehard White Sox Fan
When you're from a city with a big sports culture like Chicago, picking the right team to root for is very important. For Chicago baseball fans, that can be a little difficult since the city has two professional teams. Kenny has chosen to go with the White Sox and he has no plans to ever switch sides. During an interview he said, "I respect Cubs fans that stay Cubs fans, and I respect Sox fans that stay Sox fans. I don't respect, 'I'm a Chicago fan.' I like people when they're loyal."
7. He Is A Proud Uncle
Kenny doesn't have any children of his own, but he's getting some good parenting practice in by spending time with his beloved nephew. Kenny loves being an uncle and it's clear that he takes the responsibility seriously. The fact that he's good with kids may also earn him some points with Clare.
8. He Is The Same Age As Clare Crawley
Clare Crowley is 39-years-old which makes her the oldest Bachelorette in the show's history. Many of the contestants on the show are significantly younger than Clare which has caused some viewers to raise their eyebrows. Kenny, however, is also 39-years-old which is another thing about him that could play in his favor as the show progresses.
9. His Face Was Used For The Joker In Mortal Kombat 11
Kenny's modeling career doesn't just include print ads. In 2019, he got an awesome opportunity when he was hired to be the face model for the Joker character in the video game Mortal Kombat 11. If you look at the character closely, you can definitely see the resemblance.
10. He Has a Close Relationship With His Dad
Being an uncle isn't the only thing Kenny takes great pride in, he is also a very proud son and he has an extremely close relationship with his dad. His bio on the ABC website mentions that he and his father are gym buddies who work out together every day.
Tell us what's wrong with this post? How could we improve it? :)
Let us improve this post!