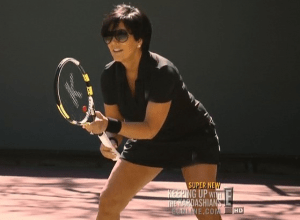 On the latest episode of Keeping Up With The Kardashians, Kris rediscovers her love of tennis and Bruce tries to get Kris to manage his son Brandon. Kris goes shopping with Kim for tennis gear. Kris makes loud grunting noises whenever she hits the ball, leading Kim and Kourtney to tease her mercifully. They hatch a plan to get the whole family involved to embarrass her.
Bruce tells Kris about Brandon's musical ventures because she is staring a music management company with Kenny 'Baby Face'Edmonds. Brandon and his fiancé Leah have a fledgling music career, they just need a good break. Kris is hesitant to mix business with family. Bruce laughs at her because their whole Kardashian family is business. He feels disappointed that she is not eager to help his side of the family. Kris says it's more pressure to take on his kids because if she makes a bad decision, it could hurt their dynamic. Bruce is further annoyed that nobody in the family but him shows up to see Brandon and Leah play at their gigs, while everyone shows up for Kardashian events. Bruce simply wants Kris to watch their video and agree to set up a meeting. Kris doesn't know that Brandon would even want her involved and she is also fearful because she doesn't have a good history with his mom.
Kim tells her younger sisters that there will be a family tennis match so that everyone can hear Kris'crazy noises. The girls and Scott show up for the tennis mach. Everyone is treated to Kris'grunting. The other girls start imitating her sounds to show her how ridiculous she sounds. She tells them all to kiss her ass and storms off, claiming they ruined it for her. The teasing makes Kris cry. Kim brings Kris a present to make up her with her about the tennis teasing. It's her very own expensive racket and balls to get her back into the game. She decides that the teasing shouldn't bring her down.
Kris meets with Babyface to discuss their new company. Bruce crashes the meeting, bringing Brandon's music video with him. Kris thinks Bruce has lost his mind. Bruce plays the video and both Babyface and Kris like it. Kris offers to have Babyface hear them in person at a gig, as long as Bruce gets Brandon's agreement. Bruce asks Brandon how he would feel with Kris'involvement. Brandon thinks it would be weird and not sure it would be a good fit for him and Leah. Bruce convinces him to at least take a meeting with Kris.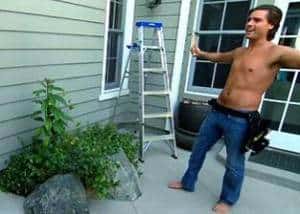 Kourtney tries to have some romantic fun with Scott but he ends up annoying her instead of romanticizing her. Kourtney puts on Titanic to try to get Scott interested in romance. He reminds her it's a movie and he's not Leo DiCaprio. She insists she wants romance so Scott sets out to do something about it. He gets a spray tan and airbrushing to try to more like Ryan Gosling in The Notebook. Then he dresses (or undresses) like a handyman and does work around the house to get Kourtney's attention. Kourtney sees right through it because he doesn't know how to do handiwork. Even quoting lines from the movie doesn't do it. She tells him she just wants personal attention. Scott tries to get help from Bruce, but he paints an even worse picture of life with women.
Kris and Kim meet with Brandon. She offers her services but wants to know how he feels. Brandon says he thinks it would be difficult because she's his stepmom. Kris admits she feels the same way. If something should go wrong, it could hurt their relationship. They agree to tell Bruce together. They tell Bruce their reservations about getting involved on a business level. Bruce looks near tears, but accepts it. In fact, Bruce decides to manage them.
Kim takes Mason for a sleepover, and prepares to sweep Kourtney off of her feet. He sets the mood with a two dozen roses, dinner and candlelight. When she pokes fun at the hard pasta, Scott reminds her how hard he is trying. She backs down and admits she's hormonal.
On the next episode of Keeping Up With The Kardashians, Kris meets up with the man who broke up her first marriage. Catch it on Sunday, June 18 at 9 p.m. (ET) on E!
Tell us what's wrong with this post? How could we improve it? :)
Let us improve this post!