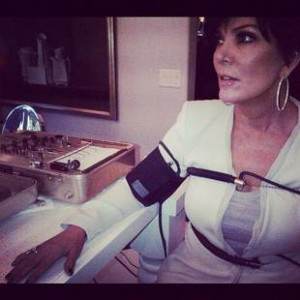 Keeping Up With The Kardashians took a serious turn last week when Bruce flirted with supermodel Angie Everhart and Kris felt forced to retaliate by meeting up with ex-flame Todd Waterman. This week, Bruce finds out and it's a huge blow to him.
On their 'date', the alcohol is flowing and Todd is making sexual overtures. Kris isn't really comfortable with this and encourages closure for them. When she leaves him, Kris admits to herself she is glad she is going home to Bruce. At home, she breaks the news to Bruce about her meeting with Todd. Even though she tells him she now appreciates him more, he calls her an idiot for going behind his back. Bruce storms off, telling her he can't trust her.
Kim claims she has sixth sense about cavities, that she can smell when someone has one. She tells Khloe Lamar needs to see a dentist before he loses all his teeth. Khloe suggests Kim make an issue of with Lamar so he will take it more seriously. She does, and makes an appointment for him.
Kris tells her daughters about Todd. Kourtney calls her a whore while the others join in giving her grief. Kim wants her to take a lie detector test while Khloe suggests an STD test. Kim insists on it and makes arrangements with a polygraph specialist. Kris takes the test with everyone present, including Bruce. The sisters had come up with a bunch of scandalous questions for Kris to answer such as, is Kim your favorite daughter (Kris says yes!), is Khloe Robert Kardashian's biological child, and then of course questions about Todd. The needle jumps a lot when she denies everything about Todd, prompting Bruce to leave the room. The specialist explains that that can happen when questions strike an emotional chord, but he concludes that she passed the test. Bruce can't be placated and confides to his son Brandon that things have never been as bad with her as they are now.
Khloe takes Lamar to the dentist, and Kim shows up for moral support. Lamar needs a lot of work done and is very nervous. He relaxes once he gets his anesthesia and eventually passes out. Seven hours later, Lamar is all fixed up. Khloe is thankful for Kim's intervention.
Rob gets upset when Kim makes remarks about his thinning hair, sending him into a crisis. He hits the beauty shop to stock up on preventative products. Not yet satisfied, Rob visits a hair restoration specialist who confirms his hair is thinning. The specialist offers suggestions leaving Rob more upset. Lamar, who has been bald since age 19 gives Rob a pep talk about learning to roll with the punches. Amazingly, Rob feels better about himself afterwards.
The Kardashian sisters become very worried about the state of Kris and Bruce's union and hatch a plan. They rent a cottage in Malibu and send Bruce and Kris away for a weekend, hoping they can rekindle their love. When the warring couple arrives at the cottage, it takes a while for the ice to thaw. It's not until the next day that they begin to work through it. Kim had sent along an old photo album of them when they were first a couple which brings back a flood of memories. They agree to put their relationship first like they had early on.
On next week's episode, Kris faces the possibility of losing her mother. The next Keeping Up With The Kardashians airs Sunday, August 5 at 9 p.m. (ET).