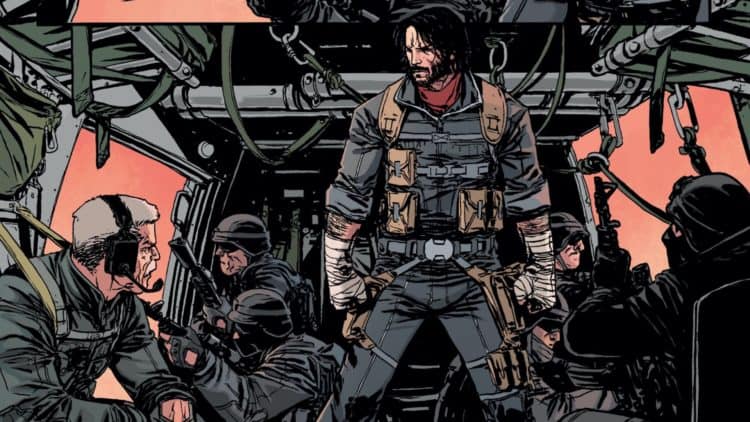 Yep, that's right. Keanu Reeves is set to co-write and "star" in a brand new comic called "BRZRKR" that was previously published on March 3, 2021. I say he stars in it, because it really does look like Keanu Reeves has written himself as the main character of the graphic novel as you can see that the character looks an awful lot like Reeves himself. So how much do we know about BRZRKR and what exactly do we know about the Keanu Reeves and Matt Kindt written graphic novel? What do we want to see from the comic, and when exactly will it release, because both Google Books and Amazon have contradicting release dates set for the comic. I'm here to keep you up to date on all things Keanu Reeves and the upcoming "breathtaking" comic book, BRZRKR.
What is BRZRKR?
"Keanu Reeves makes his comic book writing debut alongside New York Times bestselling co-writer Matt Kindt and legendary artist Ron Garney in a brutally violent new series about one immortal warrior's fight through the ages." The description of BRZRKR on Amazon reads, "The man known only as Berzerker is half-mortal and half-God, cursed and compelled to violence…even at the sacrifice of his sanity. But after wandering the world for centuries, Berzerker may have finally found a refuge – working for the U.S. government to fight the battles too violent and too dangerous for anyone else." This seems pretty in-line with something that Keanu Reeves would do as it seems like a much more science-fiction-esque version of John Wick. BRZRKR #1 was published by BOOM! Studios and is a total of 48 pages long. The art for BRZRKR is done by Rafael Grampa (Cover Art), Ron Garney (Penciler), and Bill Crabtree (Colorist).
Keanu Reeves a Sellout?
The Keanu Reeves written comic book, BRZRKR was so popular that the first issue of the comic book series and New York Times bestselling co-writer, Matt Kindt, actually sold out and BOOM! Studios responded to this overwhelming popularity by announcing the BRZRKR #1 Second Printing that included a brand new variant cover art by the Ron Garney, the artist of the series.
Who is Matt Kindt?
According to Amazon, "Matt Kindt is the Harvey Award winning writer and artist of the comics and graphic novels MIND MGMT, Frankenstein: Agent of S.H.A.D.E., Revolver, 3 Story, Super Spy, 2 Sisters, and Pistolwhip. He has been nominated for 4 Eisner and 3 Harvey Awards (and won once). His work has been published in French, Spanish, Italian, and German."
Who is Ron Garney?
Ron Garney is a popular and acclaimed artist that has worked on many Marvel comics in the past including Captain America: Heroes Return – The Complete Collection Vol. 1, Juggernaut, Savage Sword of Conan: The Cult of Koga Thun, and even War of the Realms Omega. Garney is also the illustrator on the Keanu Reeves comic book, BRZRKR. Garney's work on BRZRKR definitely mimics the tone of the comic as it appears to be incredibly gritty and rough. I love this aesthetic and it fits the Berzerker character entirely.
Is BRZRKR For You?
If you are a fan of the John Wick series and are looking for a dark, gritty, and edgy comic, then I think that BRZRKR is definitely right up your alley. However, if you're looking for a more refined series not centered around blood and violence, then I don't think this is exactly what you're looking for.
It looks like Keanu Reeves is dipping his metaphorical toes in each and every entertainment medium that he can find. First as an actor in movies like The Matrix, John Wick, John Wick: Chapter 2, and John Wick: Chapter 3 – Parabellum, and even The Spongebob Movie: Sponge on the Run, then as an actor in video games as he played Johnny Silverhand in the massively controversial first-person RPG developed by CD Projekt Red, Cyberpunk 2077, and now as an author of BRZRKR. Reeves continues to surprise fans in more ways than one, so what else is next for the talented actor and author? Maybe we'll see an acoustic album where he plays a violin? Perhaps he'll try his hand at fine art? Whatever Reeves' next move is, I'm sure it'll surprise fans all around the world and it's bound to be amazing as usual. Now, I need to read BRZRKR #1 and then wait until the second issue of the series to release on April 14, 2021. Are you reading BRZRKR? If so, let us know what you think about it in the comments below and tell us if you're excited for the second issue!