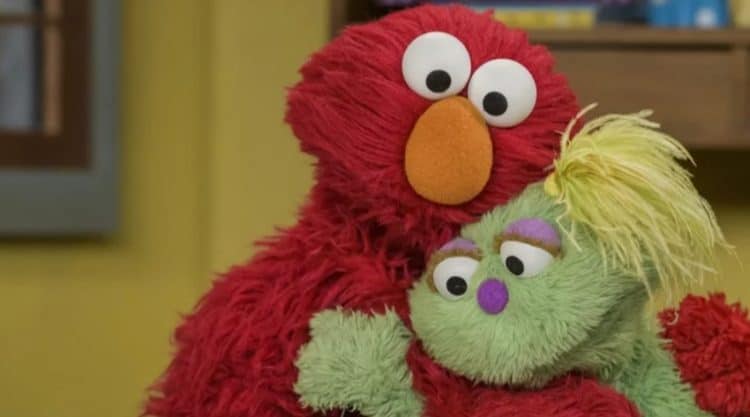 If someone told you that there's a new character on Sesame Street it's likely that you might shrug your shoulders or wonder just what kind of character had been added now, but you likely wouldn't expect someone like Karli. This is because, as Robyn Merrett from People explains, Karli is a foster home character who is currently being cared for by for-now parents in a for-now home. What this is doing is showing the plight of those kids in the system that have a tough time finding placement in one home or another and are subsequently moved about again and again in an effort to find a home that adequately suits their needs. This has become an issue in the world at this point that needs to be addressed and though some people might argue that it doesn't need to be brought up on a kids' show, others would strongly oppose this idea since it's important for kids to know what's going on so that they can empathize with other kids that they see going through this ordeal.
Nicole Pelletiere from GMA has written that this is character is a part of Sesame Street's initiative to show people just what is happening in various communities where kids are being affected by a wide number of variables that leave them without a home or a family. Some might want to argue about it and think that kids don't need to know this, but in a world where such things are on the rise now and again and affect us more than we like to think, it might be important for kids to learn in their own way how this kind of life affects a person. Making a puppet into a foster kid seems a little controversial in some regards but so far it seems to have done what the creator behind the idea had in mind. Keeping kids from the truth of the matter isn't always the best option as it denies them the chance to grow and develop into caring, empathetic human beings that will at least comprehend the plight of others. Bringing this idea to light on Sesame Street is perhaps one very sure way to get kids to pay attention and come to understand what's being said and why it's so important.
Such messages about the world that surrounds us all aren't unique to shows like Sesame Street after all, as life lessons have been abundant in some of the most innocent shows that we've watched throughout the years. From the most mundane to the most complex feelings that encompass what it means to be a part of humanity, a lot of shows have taken on the hard questions and subjects and come through in a pinch to show in their own way a resolution that is satisfactory to many people but still remains controversial to some. That Sesame Street would rely upon this tactic isn't hard to see when it comes trying to figure out why they would take on a subject that means something different to so many people. The show has throughout its history never really balked at taking life lessons of all sorts and breaking them down into episodes that allow kids to understand the more adult concepts of life that they witness and sometimes experience. Obviously there are a few emotional venues that Sesame Street won't be wandering down any time soon, but this particular one seems as though it might have drawn the ire of a few parents, but not enough to pull the show or the character.
If you can recall, Sesame Street has taken on characters with autism, has taught about refugees and how their lives are affected by having to leave their homes, and a few other subjects that some might feel are not suited for children. The show has taken a decidedly big stance on trying to educate children so as to keep them aware of the world around them and how the many different situations that people find them in affect those people. This also shows them what they can do, how to react to people that are so different from them, and what it means to be compassionate to other people. It does seem to raise a bit of controversy when such subjects are broached on a kids' show, but really if you have a problem with kids being made aware of what's going on in the world then you might need to take a step back and examine your own mindset before you go judging Sesame Street. Kids inhabit this world too after all, and the less they know the less growth they'll experience as they continue to age and begin to wonder about the world around them. Provided that the show is taking measures to be as judicious as possible with the content, it's actually a good idea to show kids what some people have to do to get by in life.