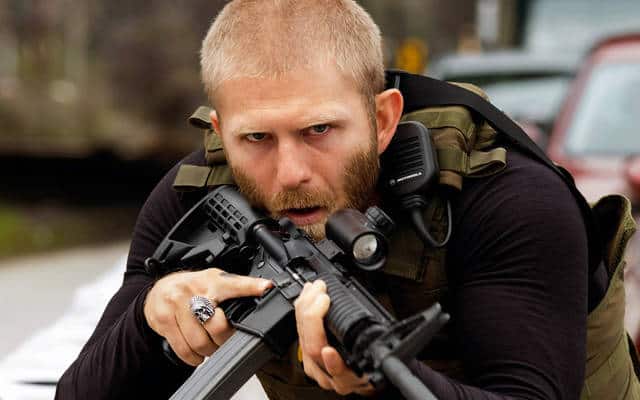 Kaiwi Lyman has been working tirelessly for nearly 20 years, and that hard work certainly hasn't gone unnoticed. In the years since making his on screen debut, he has gone on to earn more than 80 acting credits in a variety or productions that include shows, feature films, and short films. Although many of his roles have been guest or recurring appearances, he has finally gotten a big opportunity when he was cast as a main character in the Quibi series, Don't Look Deeper. Each episode of the show is only 10 minutes long, Kaiwi has shown that he doesn't need much time to capture the audience's interest. Keep reading to learn 10 things you didn't know about Kaiwi Lyman.
1. He Started A Production Company
Kaiwi hasn't just worked hard to establish himself as an actor, he is also a businessman who is interested in helping other people bring their creative visions to life. He recently started a production company based in Los Angeles called Odin Forge Entertainment.
2. He Is From Hawaii
Hawaii is the kind of place that most people only get to experience during vacation. However, for Kaiwi, it's the place he called home for much of his life. He was born and raised in Hawaii and, as you can probably guess, he loves to spend time on the beach. Some of his favorite things to do include surging and swimming. He and his family currently live in the Los Angeles area which means he can still enjoy all of the outdoor activities he loves.
3. He Is A Trained Martial Artist
Staying in good shape is important to Kaiwi. But one of Kaiwi's favorite ways to stay active doesn't involve going to a traditional gym setting and lifting weights. Kaiwi has been practicing Brazilian jiu jitsu for many years and it's something he continues to do to this day. When he isn't working, he trains to compete in martial arts competitions.
4. He's A Dad
Kaiwi's good looks certainly haven't gone unnoticed and there are many people who have given him Hollywood hunk status. Unfortunately for all of the people who have Kaiwi at the top of their crush list, he isn't on the market. He has been married to Mailyn Lyman-Mersereau since 2016 and the couple has one child together.
5. He Was Very Involved In His High School Theater Program
Kaiwi was born to entertain people and by the time he was in high school he was taking acting seriously. When talking about Kaiwi, his high school theater teacher said, "He is so humble and gives Mid-Pacific School of the Arts credit for his formal training in acting. He attributes his career to the skills he learned here in Manoa, as well as the encouragement he received from the theatre faculty. I'm so happy for him as he continues his journey as a working actor."
6. He Attended Santa Monica College
After finishing high school in Hawaii, Kaiwi decided that he wanted to move to Los Angeles to pursue acting at a higher level. He attended Santa Monica college where one of his teachers encouraged him to apply for Juilliard after hearing him recite a monologue. However, it doesn't appear that he ever went through with the process.
7. He Was In American Horror Story
Kaiwi may not be a household name, but he has been in lots of projects that many people are familiar with. One of his most noteworthy roles was in FX's hit anthology series, American Horror Story. He played a character named Gutterball during the "Cult" season.
8. He Was A Magician
Kaiwi is the kind of person who always has a trick up his sleeve – literally and figuratively. He learned magic when he was younger and actually competed in magic competitions. It's unclear whether or not he still practices magic, but maybe it's something he'll get the chance to incorporate into one of his roles.
9. He Loves Motorcycles
If you couldn't tell by now, Kaiwi is definitely the adventurous type and he's always up for a good adrenaline rush. He's into motorcycles and used to own a few bikes. It looks like his riding days are behind him now though, and that's likely because he has a wife and child to keep in mind.
10. He Plays The Guitar
On top of acting, Kaiwi has a musical side as well. He enjoys playing the guitar and expressing himself through music. However, it doesn't look like he has any plans to pursue music as more than a hobby, so his fans shouldn't be on the look out for a musical project from him.