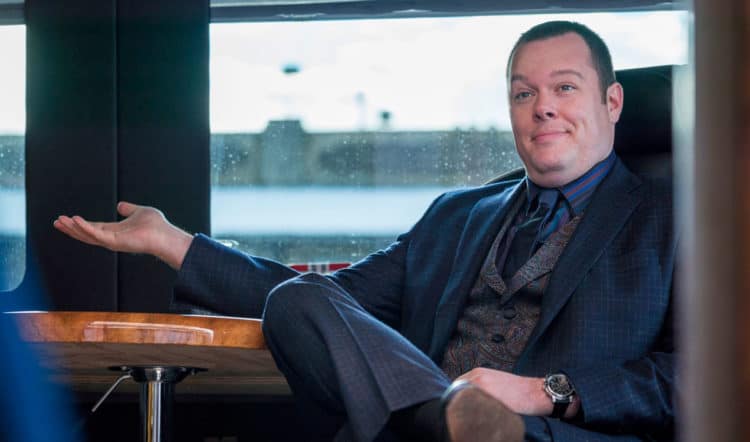 Acting is one career that has made the relentless successful. Despite the obstacles that come on their way, they must be ready to face them and ensure that nothing stops them. Michael Gladis is one actor who made it despite having other alternatives. He was born in 30 August 1977 and participated in theater as a volunteer. Being on set saw him develop the interest of becoming a great actor one day. Indeed his dream came true, and most of us know him through his acting career. However, for him to have a prosperous career in the entertainment industry, he had to choose between acting and other activities that were distracting him. Apart from being a great actor, what else do you know about Michael? Learn more about him from these facts below.
1. He is from a middle-class family
Michael was born in Farmington. He had a wonderful childhood as he was from a middle-class family. His parents, therefore, fulfilled most of his demands. His family's earnings mainly came from sales and marketing, and their income was enough to sustain a happy life. His family members are Christians, but his maternal grandfather was a Jew.
2. He is married
Unlike those relationships that one does not know where he stands, Michael decided to make a stand. He married Beth Behrs, an actress, in a colorful wedding ceremony in 2018. The two had been in a relationship for long and decided to take it to the next level. They shared the pictures of their wedding in their Instagram story. The venue of the wedding was a ranch in Idaho bordering Wyoming. Christina and Kat were Beth's bridesmaids. After the wedding, Beth thanked all the people who made the event a success on her Instagram.
3. His volunteering for theatre productions sparked his interest in acting
Michael must have loved drama since his younger days because he spent some time in Miss Porter's School volunteering in theater productions. He loved the task and developed the interest in acting too. The school was a girl's school, and Michael knew that in the future, the school would need male actors. He later got the chance to act, and that became his gateway to the acting industry. He went ahead to participate in various auditions and is now a great actor.
4. He started smoking cigarettes when he was 14
If you have been watching "Mad Men," then you must have realized that nearly all characters smoke, Michael included. In an interview with My Fan Base, Michael admits that he was once a cigarette smoker. Michael started smoking at 14, a habit that went on for around 17 years. He is now happy to be free of the habit; hence, in the show, they smoke nicotine-free cigarettes. He is worried about re-introducing nicotine to his system to avoid developing an addiction.
5. He dropped out of art school
Michael initially went to study art, but the course never reached completion. His appearance in the stage production of "Twelve Angry Men" became the end of his studies to become a painter. After the success of the show, he dropped out of art school to practice full-time acting when he was 18. He saw more potential in acting compared to art and also found out that there was a lot of isolation as a painter compared to acting. As a painter, he had to work alone, but with acting, they worked as a team towards a common goal. Another thing that drove him to the acting career is the beautiful girls in the theater, so it is no surprise he ended up marrying one.
6. He is a two-time winner of Screen Guild Awards
Michael has won the award of Screen Actors Guild twice. He got nominations for the award in 2007 and became a winner for two consecutive years in 2008 and 2009. The award was in recognition of his outstanding performance in a drama series.
7. His goal as an actor is quality
In an interview with Lip Sisters, Michael says that his goal as an actor is quality. He reveals that he has no intention of being the star in Hollywood but wants to be the best in his perspective. He is always on the run to appear in style, and grace hence feels privileged to work with content creators who are passionate, genuine, and intelligent. His ambition in his acting career is to make great films and theater productions through a collaboration with incredible artists.
8. His hobbies
When Michael is not acting, he has lots of activities that he enjoys doing, among which are camping and traveling. He is an adventurous man who loves visiting new places. Watching movies and reading also keep Michael preoccupied. He loves getting varied content and relate the experiences with the ones that he meets in his acting career. When free, Michael also likes to keep fit by going to the boxing gym or running around a lake near his house. Finally, another creative outlet is playing the guitar every day.
9. He took two semesters of German in college
Michael had an interest in learning German and took two semesters in college to study the language. One sad thing about it is that he has never had the opportunity to use German. Michael says that when someone talks to him in German, his response will only be three words long. He is, however, longing to visit German one day to expound his knowledge of German and get a chance to practice it.
10. He is worth $3 million
Michael's wealth is valued at $3 million, and the primary source is his acting career. He also advertises products and services of companies and gets some income from such deals. His net worth explains why he lives a lavish lifestyle. Michael drives expensive cars and has a costly house. With his rise in fame, the figure of his net worth is likely to increase.
Tell us what's wrong with this post? How could we improve it? :)
Let us improve this post!