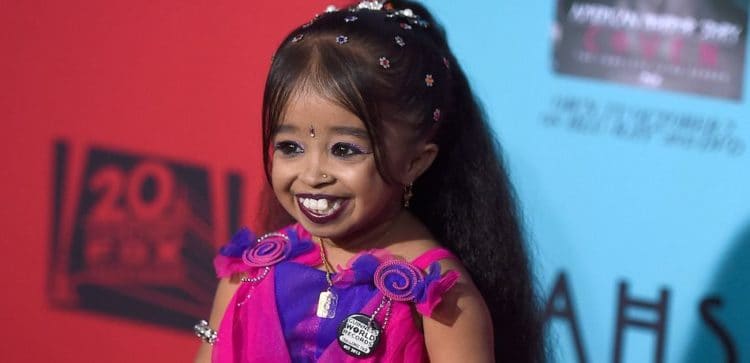 If you are familiar with the Indian movie-making world, you know the name Jyoti Amge. If you don't, it's time to become familiar with her. She's a famed Indian actress who has led a very interesting life. She's been on television for some time now, and she's got a diverse portfolio. It is high time for anyone who doesn't know her to get to know her. She's that interesting.
1. She's A Guinness World Record Holder
Not many people get to say that, but she does get to say that. She's in the book at the world's smallest woman. She is officially only 2 feet .06 inches tall. She's been named the world's smallest woman since 2011 when she was officially an adult. She weighs approximately 12 pounds.
2. She's Still Young
Jyoti Amge is a young woman. She's not even 30 yet, but that hasn't stopped her from living her very best life to this point. Her date of birth is December 16, 2011. That also corresponds with the date she was officially named the world's smallest woman. She couldn't take the record until she was an official adult on her 18th birthday.
3. She Lives with Achondroplasia
It's a genetic disorder she was born with. The most common feature in people who are born with this disorder is dwarfism. However, the average person with this genetic disorder is around 4 feet and 4 inches tall. She's definitely not there, and that is why she's the world's smallest woman.
4. She's Got a Statute
There's a lot that really makes you feel like you made it in life, but having a wax figure has to be at the top of that list. After all, they don't just make wax figures of just anyone, do they? She's got one at the Celebrity Wax Museum that is located in Lonavala.
5. She's Always Wanted to Act
Growing up, Joyti knew she was going to be an actress. She loved watching film and movies and spending time wondering what her own life would be like when she was a famous actress. Her most notable role to date was in "American Horror Story," in which she was Ma Petite. She killed it when she did it, and people fell instantly in love with her.
6. She's A Flirt
She is a self-proclaimed flirt, but aren't most of us? She has no problem playing along even when she's not interested or when she's with a male friend who is only going to be a friend in her eyes. She's just someone who is naturally flirty, and we don't see a darn thing wrong with that.
7. She's Not Sure Marriage is For Her
In a society when getting married and having babies and filling the house with fresh baked goods and home-y things seems to be the biggest ongoing trend, she is definitely not feeling the heat. She's not that interested in getting married or having a family of her own. She prefers to be free, to live her life her way, and to be the only one with any say in what she says, does, or wants to do. We get that. Freedom is everything, and she happens to like hers in her personal life as well as her actual life.
8. She's Not a Believer in Limits
May we call her inspiring? We love that she is not someone who believes in limits. She's not someone who is doing what she does because she has them. She's doing what she's doing because she doesn't believe that limits should exist, that they should define you, or that they should direct you in any capacity. She's a woman who is not going to stop what she's doing in life because someone else thinks she shouldn't be doing it.
9. She's An Excellent Advice-Giver
During the height of the COVID-19 pandemic, she had some advice to all her fans and those who don't even know her – yet. She urged everyone to just stay home and make the most of their time with their families. She wanted the world to know that this was time gifted to them that they might not ordinarily have – how often does the literal world shut down and give everyone that kind of time to spend with their families and nowhere to be, to go, and nothing to do?
10. She's Social
She absolutely loves to socialize, and she's not let lockdown stop her from doing that. She's simply changed the game a bit. Rather than going out and being with her friends and family that way, she's been using her social media accounts to get to socialize with her friends and her fans. We love that.