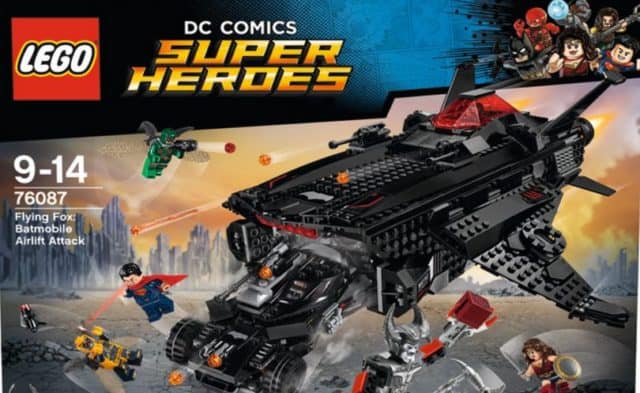 How cool would it be to see your likeness represented by an action figure? There are no words right? That's just about as close as it gets in describing how Ezra Miller and Ray Fisher first reacted to seeing their faces on the new line of [easyazon_link identifier="B00I6EUBS8″ locale="US" tag="tvovermind00a-20″]Justice League DC action figures[/easyazon_link] that are hitting the shelves. While Miller has already been a known figure in films and Fisher has worked his way up to this point it's still a great honor to see yourself featured as a genuine action figure that kids all over the world will likely covet and play with for years to come. The guys are allowed to geek out for a little while over it, it's completely understandable.
So really, how would you react?
Ezra Miller actually did a doubletake.
The actor has been rising in popularity for the last few years now and yet his stardom is still just new enough that seeing himself represented as his superhero persona in the film has him a bit dumbfounded really. It's a comical moment that's still kind of inspiring as it allows us to know that stars are still capable of being taken by surprise now and again. His reaction is so great that one has to assume that he didn't really know if [easyazon_link identifier="B00I6EUBS8″ locale="US" tag="tvovermind00a-20″]the action figure[/easyazon_link] was going to be that spot on with his appearance. But obviously toy makers are starting to pay attention to details in a much bigger way now, meaning that he was given a fair and honest representation.
Ray Fisher was so overcome that he couldn't get a full sentence out.
To be fair it might have been because Ezra was so excited that he couldn't stop talking long enough for Ray to get a word out, but the feeling was there. His first reaction was an exclamation of such joy that you might have thought he was revisiting his childhood and had just opened a brand new toy that he'd been waiting for. Watching grown men get excited over toys is nothing new really, but when it's over action figures you almost expect the men to be the archetypal comic book geeks that know every last detail of the characters' stories and could tell you what issue and what edition this or that character first appeared in. That's impressive despite being kind of odd, but Ray and Ezra's reactions are akin to kids getting excited about something that adults would normally look at and say something like "hm, cool". In other words, their reactions are priceless and worth watching.
Do you get the feeling that maybe at one point and time in their lives that Ezra and Ray might have been big comic fans if they're not right at this moment? Even if they weren't their reactions are so great that it seems to indicate that they're totally and completely into their roles and would no doubt like to see themselves in another movie or two down the line. I get the feeling that fans of the DCEU would agree.
here's Ezra Miller and @rehsifyar geeking out over new JUSTICE LEAGUE toys; God bless these beautiful souls#jointheleague pic.twitter.com/4jnhzL0srX

— knock knock let roby in (@iamthatroby) August 3, 2017
Save